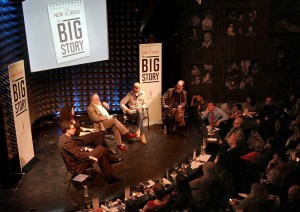 Who: Emily Nussbaum, Richard Brody, David Denby, Kelefa Sanneh, moderated by David Remnick
What: "The Big Story: Is Television the New Cinema?"
Where: Joe's Pub
When: January 12, 2012
Thumbs: Up
Not a single member of The New Yorker's esteemed panel was willing to argue in favor of the proclamation that television has surpassed – or would surpass – the prestige and prowess of Hollywood cinema. However, some were more willing than others to argue that TV shows have come a long way in proving that they, too, can be taking seriously as an artform.
TV critic Emily Nussbaum led the campaign, arguing that over the past fifteen or so years the quality of television programming has risen to rival that of what you'd find on the big screen. People's attitudes toward the medium have changed, she said, and TV has gone from being a source of advertising and "junk form of storytelling" to something more substantial. She credited David Chase and Joss Whedon for starting the trend at the end of the 1990s with The Sopranos and Buffy the Vampire Slayer and setting a higher standard for the programs that would follow.
It was also around that time that Reality TV became a sensation, pointed out Kelefa Sanneh. A fan of the genre, Sanneh argued that the "ambiguity" of what's real and what's staged, or who's acting sincerely and who's posturing for attention and fame, makes Reality TV compelling for the audience. Besides, "There would be no Arrested Development without The Real World," Nussbaum added, saying that mockumentaries had to come on the heels of documentaries' success.
While the younger two panelists defended television's progress and popularity, the more senior members, David Denby and Richard Brody, urged their counterparts and the audience to consider where television falls short. Denby believes that movies are an "emotional experience"  that some TV programs can match, but shows don't as easily "challenge what you've ever seen before." That's the power and magic of cinema, they said. Brody added that movies are built around sound and image, and TV is obsessed with narrative. Narrative, he said, at its best is just a framework for the story. Nussbaum interjected that TV is the writer's territory while film is up to the director's dream.
She also said she hopes that the cross-platform arguments will "dissolve" as we accept and respect television's great programming. Conversations like this one comparing TV to movies might then vanish, too, Remnick reasoned. Everyone seemed to be at peace with that inevitability.
What They Said
"For a long time, film was a medium and television was an appliance, and they knew what they were."
– Kelefa Sanneh gives an overview of how the structure used to work

"To me, the Internet was an absolutely essential component of proving what TV could do."
– Emily Nussbaum points to message boards as a source for people to communally exchange thoughts about their favorite shows
"I think The King's Speech would play very well on TBS, and I don't mean that as a compliment."
– Richard Brody prefers avant-garde movies
"What Mad Men is about is hats…it's not just story, it's style."
– David Denby likes some of what he's seen on TV
What We Thought
Remnick, as usual, did a great job steering the ship. With a short amount of time to cover a big topic, Remnick masterfully kept everyone on target. It helped that he knew each of these panelists personally because it allowed him to dive right in with leading questions that forced the others to express opinions and to address each other's points. He was stern, yet accommodating, and helped squeeze a lot of information and discussion into an hour.
The panelists each pre-selected clips from TV and movies to screen for the audience. Hearing the four of them describe what they see in a short clip, you got a real sense of how differently and analytically they watch shows and films. Criticism requires a certain mind to perform well, and we were impressed with the "bonus material" we got to witness firsthand.
PANEL RULES!
Some audience behavior seems to repeat itself panel after panel. We'll be updating a running list of "PANEL RULES!" that will help ensure that you are not the dweeb of the Panel Nerds.
Panel Nerds don't like…Show-Offs
The audience was chock full of smart people with opinions to share on this engaging topic. Some audience members even proudly announced they work in the entertainment industry. So they wanted to show off what they knew, to match wits with the panelists, and to be perceived by their peers as intelligent and thoughtful participants. Quite simply, that's not what they're there for. Rambling thoughts about what makes for a great show are worth sharing with friends over a cup of coffee; but the rest of us should be spared. You're not who people paid to hear from.

Image credit: Mark Kupasrimonkol
Have a tip we should know? tips@mediaite.com