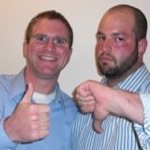 Who: Adam Elend (Bright Red Pixels), Heather Gold (The Heather Gold Show), Colin Moore (IFC), Diane deCordova (Next New Networks), Paul Kontonis (For Your Imagination) and Dina Kaplan (Blip.tv), moderated by Manoush Zomorodi (Reuters)
What: Media Bistro's Producing Online Entertainment Content
Where: Tribeca Cinemas
When: August 19, 2009
Thumbs: Up
Of one point, all six panelists agreed: It's difficult to be successful online. They consented on that point, even though they had different definitions of success. Whatever you set out to achieve — whether you want to make money, hit benchmarks for site visitors, get publicity, build a brand, or just express yourself creatively — online video is an uphill and demanding venture. The most telling moment of the night came when Paul Kontonis was asked "What would you tell someone just starting in online video?" and he replied "Don't."
But Kontonis's fatalist attitude wasn't shared by all. The panel offered some keys to the trade. Everyone agreed that you must first identify and zero in on your audience. (Kontonis mentioned "The Curse of Any" – If your video is for anyone, it's for no one.) Each of them had advice for how to create and build something that's both personal and innovative.
Heather Gold repeatedly stressed the importance of authenticity and doing what you really want to do. Colin Moore focused on building your brand. Adam Elend spoke about intimacy with your audience. Kontonis made the intuitive point that your videos have to be good and engaging. Diane deCordova amplified that by reminding people to make fresh and original videos. And Dina Kaplan said that you have to package it all together with the right look, feel and vibe that sets your videos apart from the millions of others out there.
The audience really wanted to know how to make money with online video. The panel emphasized how different online video is from blogging, where you tend to first work on producing content and worry about revenue later on. For original video, both Elend and Kontonis say they secure sponsors before shooting begins. Dina Kaplan sells shows another way. Her company, Blip.tv, packages 50 niche shows together and tries to sell them as a block to advertisers. The panelists suggested that in order to help attract an audience – and, in turn, advertisers – video producers need to spend half their time on content and half their time on marketing their product. Otherwise, you are better off heeding Kontonis' warning: Don't.
What They Said
"How do you make entertainment in a world where looking at a friend's Facebook album is as entertaining as a TV show?"
– Adam Elend made us happy we weren't the only ones
"People tend to go right to dollars and numbers. I would encourage you to ignore both of those."
– Heather Gold has one definition for success
"We're a network owned by a corporation owned by a corporation. We're trying to make money."
– Colin Moore has another definition
"Advertisers are a lot less interested in content than they are in your audience."
– Dina Kaplan on why it's important to build your own audience
"Don't do live (video) unless you can do sports or news."
– Paul Kontonis is slowly eliminating options of what you should even try
"There is a huge audience out there- 140 million people- watching online video."
– Diana deCordova explained why video, despite the difficulty, is good to be involved in
What We Thought
Manoush Zomorodi did a great job of two things. The first is handling a panel this large. She began by dividing them in two groups, but that boundary quickly disintegrated. The second is offering quick background and explanations for people, sites or programs mentioned. In fact, she set the tone for the panelists to begin explaining things themselves. She was a real audience advocate.
It was pointed out a few times, but – it's the Internet. Every piece of advice the panel gave could soon be obsolete.
We seem to be moving closer to the point where you won't discern between a "network show" and an "online show" when you watch content. We can't yet fully imagine that world.
PANEL RULES!
Some audience behavior seems to repeat itself panel after panel. We'll be updating a running list of "PANEL RULES!" that will help ensure that you are not the dweeb of the Panel Nerds.
Panel Nerds don't like … Crammers
When you're just haphazardly listing all the online terms and phrases you're familiar with (SEO, metrics, uh… analytics!), we know what's going on. You couldn't get away without doing the reading in school. You still can't. A better approach – Just ask the question.
Panel Nerds Etan Bednarsh and Danny Groner are New York-based writers and avid panel-goers. Want them at your panel? Email them here: [email protected]
Have a tip we should know? [email protected]