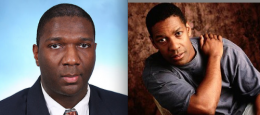 For a political candidate (reminder: officially, this is what he is) that has begun to shun the media "enigmatic jobless man" Alvin Greene has demonstrated a genius for continually stretching out his 15 minutes of fame. Here is the latest.
The inimitable Katharine Q. Seelye of the New York Times paid Greene a visit recently and while she didn't manage to pull any shocking new facts out of South Carolina's Democratic nominee for Senate she did reveal him to be, uh, slightly more paranoid that past profiles had suggested.
Mr. Greene said the Army discriminated against him by not promoting him. And yet, he said, it promoted to the rank of major a man who would later be accused of shooting 13 people to death last year at Fort Hood, Tex.

"I didn't have one promotion in six-and-a-half years of active duty, full time," Mr. Greene lamented in an interview the other day at his father's house on the outskirts of this small town in the south-central part of the state.

"I was born and raised right here in South Carolina, and I'm a true American," he said. "That guy was Middle Eastern and had terrorist ties."

He was referring to Nidal M. Hasan, whose name he did not use.

Mr. Hasan was born in Virginia to Muslim Palestinian parents and is awaiting trial on 13 counts of premeditated murder; he has not been charged with terrorism.
This sounds like the closest thing to a political platform Greene has managed so far. And in the great Washington tradition of mixing politics with Hollywood Greene also revealed that in the movie about his life he'd like to be portrayed by Denzel Washington. I think where Alvin Greene is concerned one should never say never.
Have a tip we should know? tips@mediaite.com