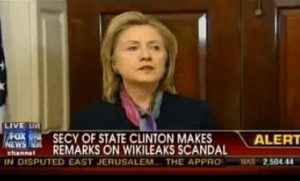 Among the many fascinating, if not shocking, revelations that came with the report on the latest tranche of documents recently released by Wikileaks is the alleged low-level spying on United Nations diplomats encouraged by U.S. Secretary of State Hillary Clinton. Earlier today Ms. Clinton responded to these allegations, becoming the first official senior member of Obama's cabinet to officially comment on the Wikileaks release. "So let's be clear," Madame Secretary explained "this disclosure is not just an attack on America's foreign policy interests, it is an attack on the international community."
Ms. Clinton was clearly in a no-nonsense mode of communication as she exhibited her inherent badassness not seen since the end of the Democratic primary campaign of 2008. Frankly, she seemed more than a little peeved, which is understandable given her front-and-center placement in the days news cycle. Economic Times reports:
Secretary of State Hillary Clinton described India as a "self-appointed front-runner" for a permanent UNSC seat and directed US envoys to seek minute details about Indian diplomats stationed at the United Nations headquarters, according to classified documents released by WikiLeaks today.

In a potentially damaging disclosure, the whistle-blower website released a "secret" cable issued by Clinton on July 31, 2009, as part of its massive leak of a quarter million classified documents of the American government.

The cable posted by The New York Times gave directions to US diplomats to collect information on key issues like reform of the UN Security Council and Indo-US civilian nuclear deal and pass it on to the intelligence agencies, including on foreign associates' credit card and frequent-flier numbers that could be used to track a person's movements.
Ms. Clinton would not comment on or confirm on what are alleged to be stolen State Department cables, but she did say "that the United States deeply regrets the disclosure of any information that was intended to be confidential, including private discussions between counterparts or our diplomats personal assessments and observations."
Have a tip we should know? tips@mediaite.com