Patriot Of The Week: Sandi McMillin Allegedly Kicked Out Of Walmart For Wearing A Bikini Top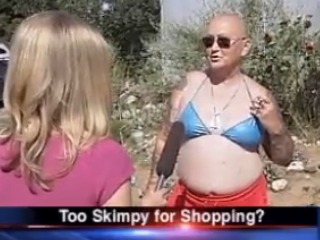 Oregon woman Sandi McMillin is Mediaite's inaugural Patriot of the Week for refusing to compromise comfort, style or integrity in order to appease a corporate behemoth.
Here's what went down: McMillin and her sister decided to do a little shopping at a Eugene, Oregon Walmart. To counteract the day's high temperatures, McMillin donned a pair of red shorts and a bright blue bikini top. She had barely been in the store a few minutes when a store employee allegedly informed her she'd have to either don a shirt or leave. The employee rubbed salt in the wound by citing a possible "health code violation" as the reason McMillin should cover up. McMillin says she was "horrified" as she was escorted from the store.
Hold up, America!
First, a little context: Anyone who has ever even briefly perused the (admittedly crass and often invasive, sure) site "People of Walmart" knows full well that McMillin's outfit is positively demure compared to some of the revealing amalgamations of Lycra and offensive slogans worn by other store shoppers. Sometimes it seems like a person could stroll into Walmart wearing little more than a smile and a cork and nary a drawn-on eyebrow would be raised. Second: Health code violation? Unless Sandi McMillin's bellybutton hides a malaria-carrying mosquito, we're fairly certain no one is going to catch anything from her shirtlessness.
A Walmart spokesperson tells a different story, saying that McMillin was not actually forced to leave, but that other customers had complained that McMillin had been "verbally abusing" people in the store. Way to be a j3@LuS h8r, "Other" "Customers." A question, then: Why did Walmart apologize to McMillin if she was at fault for harassing customers while looking fabulous? Hmm.
McMillin, meanwhile, says she will never shop at Walmart again. And for that, she is Mediaite's Patriot of the Week.
Oh, and the bikini she'd worn to the store? She purchased it at Walmart.
Watch video of McMillin, from KVAL News:
h/t NY Daily News
Have a tip we should know? tips@mediaite.com