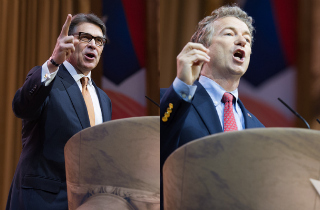 In a piece in POLITICO Magazine, Senator Rand Paul (R-KY) fired back at Texas Governor Rick Perry (R) in a growing spat between the two over foreign policy in the GOP. Perry started this fracas with an op-ed in the Washington Post Friday lamenting Paul's isolationist tendencies, and backing that up on yesterday Face the Nation.
Paul ain't having it. "Apparently his new glasses haven't altered his perception of the world, or allowed him to see it any more clearly," Paul, an ophthalmologist, wrote. "With 60,000 foreign children streaming across the Texas border, I am surprised Governor Perry has apparently still found time to mischaracterize and attack my foreign policy."
Paul points out that for all of Perry's rhetoric, his policy prescriptions for the Middle East don't differ much from Paul's, or from Obama's — not surprising, Paul added, given the narrow range of good options in Iraq and Syria. "I would argue that if anything, my ideas for this crisis are both stronger, and not rooted simply in bluster," Paul wrote.
The main difference between them, the senator argued, was that Perry was willing to send troops back to Iraq, something Paul thinks is bananas. "I ask Governor Perry: How many Americans should send their sons or daughters to die for a foreign country — a nation the Iraqis won't defend for themselves? How many Texan mothers and fathers will Governor Perry ask to send their children to fight in Iraq?"
Read the full piece here, via POLITICO.
[Image via Christopher Halloran / Shutterstock.com / Christopher Halloran / Shutterstock.com]
——
>> Follow Evan McMurry (@evanmcmurry) on Twitter
Have a tip we should know? [email protected]