Paul Krugman Declines White House Job That Was Never Offered: 'Would Actually Reduce My Influence'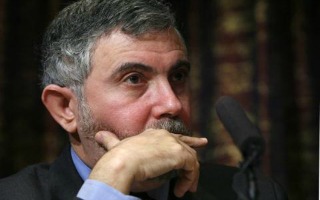 Monday morning dawned with bad news for the White House: President Barack Obama will have to look elsewhere to replace outgoing Treasury Secretary Timothy Geithner than New York Times economist and columnist Paul Krugman. Despite the lack of reports that Krugman was being considered to replace Geithner, he opted to preemptively take his name out of the running for the position. He says that, while he is "flattered" to be considered, a position in the Obama administration would result in his having less influence over policy than he already enjoys.

RELATED: Paul Krugman: Obama Might 'Go Down In History As The Wimp Who Threw It All Away'
On Saturday, a columnist in the U.K. Guardian advanced the notion that Krugman should replace Geithner as Obama's next Treasury Secretary.
"Yes, I've heard about the notion that I should be nominated as Treasury Secretary," Krugman begins his New York Times blog. "I'm flattered, but it really is a bad idea."
He says that there are a number of obstacles in the way of his ascension to the Cabinet. Krugman says that his managerial style leaves him simply unsuited to an executive role. "Oh, and there's not a chance that I would be confirmed," Krugman adds.
The biggest impediment to Krugman taking a role in the White House, however, is the stature he presently enjoys as a columnist for the New York Times.
"[B]eing an op-ed columnist at the Times is a pretty big deal — one I'm immensely grateful to have been granted — and those who hold the position, if they know how to use it effectively, have a lot more influence on national debate than, say, most senators," Krugman writes. "Does anyone doubt that the White House pays attention to what I write?"
By my reckoning, then, an administration job, no matter how senior, would actually reduce my influence, leaving me unable to say publicly what I really think and all too probably finding myself unable to make headway in internal debates.
He says that his present role already affords him a level of influence which the White House "can't ignore."
> >Follow Noah Rothman (@Noah_C_Rothman) on Twitter
Have a tip we should know? tips@mediaite.com