Paul Krugman Responds To Estonian President (Sort Of) With An FDR Economy Graph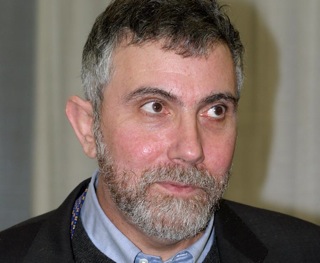 In an amusing turn of social media events yesterday, an account claiming to be Estonian President Toomas Hendrick Ilves began attacking New York Times blogger Paul Krugman for taking a swipe at his nation's formidable economy. Krugman responded today on his blog by deliberately not responding and claiming not to look at President Ilves' response, and instead posting a graph claiming to prove that the New Deal was a good idea.

RELATED: Estonian President Toomas Ilves Tears Into Paul Krugman On Twitter
"I'm hearing from various sources that my rather mild-mannered post on Estonia has generated a vitriolic response from the nation's president," Krugman writes today, "I'm not going to try to track the thing down." Instead, Krugman presents a graph, asking whether those that believe that Estonia's government proves that austerity works would also agree that "the evidence below demonstrates the incredible success of FDR's New Deal policies of promoting unions, raising wages, and increasing government employment." To put an exclamation point on how much he doesn't care about the person who fixed the economy he is bashing attacking him for being wrong, the title of the post is "Ballistic in the Balkans."
Whether the Ilves/Krugman feud will continue with the President responding to this latest post is yet to be seen. In some ways, Krugman did address Ilves' claim of being needlessly condescending to Eastern Europeans by being even more condescending to Eastern Europeans, but technically the ball is in Ilves' court to respond, if he thinks this merits one.
—–
» Follow Frances Martel on Twitter
Have a tip we should know? tips@mediaite.com