People Are Angry With Caitlyn Jenner's Silence On the Rollback of Transgender Student Protections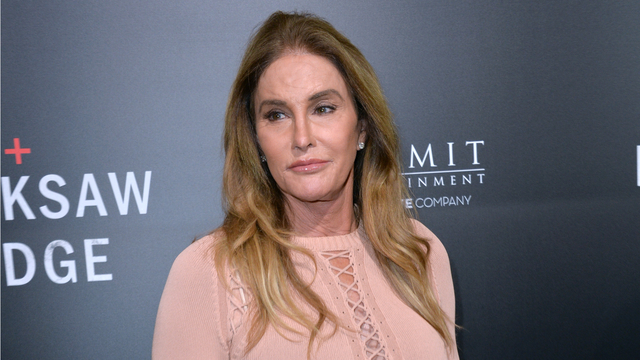 Yesterday, the Trump administration withdrew protections for transgender students that allowed them to use whatever bathroom they wanted in school under Title IX. Tons of celebrities have spoken out, angry with the administration and with President Donald Trump. Jackie Evancho, who performed at his inauguration even tweeted her disappointment, and appeared on Good Morning America today with her sister, who is transgender to talk about it. One person who has been silent, though, is Caitlyn Jenner.
Candidate Donald Trump never seemed to mind transgender people using whatever bathroom they wanted to use. He famously told Jenner that at Trump Tower she could use whichever one she felt comfortable in. Jenner, a lifelong Republican, attended his inauguration, and just prior to that she tweeted that she was there to "help" Republicans on LGBTQ issues. It's worth noting that it's entirely possible Jenner is planning to say something, or is planning to try to get to the administration in some other way.
Lots of people have taken to social media to express their anger with her:
Republicans need help understanding LGBTQ ?️‍? issues and I'm here to help!

— Caitlyn Jenner (@Caitlyn_Jenner) January 18, 2017
Caitlyn Jenner was FURIOUS about this rollback of trans rights, and I've listed her statement on the issue below.#ProtectTransKids pic.twitter.com/TYkhGtBzqf

— Clint Falin (@ClintFalin) February 23, 2017
Congratulations @Caitlyn_Jenner on your #LGBT ambassadorship to the Trump Administration. You can retire now. pic.twitter.com/EXFzXYZYVL

— Mrs. Betty Bowers (@BettyBowers) February 23, 2017
Remember when @Caitlyn_Jenner said this about Trump? What now Caitlyn?! What are you going to say to those transgender kids? I just can't… pic.twitter.com/Yniqu8Xruf

— Charles M. Blow (@CharlesMBlow) February 23, 2017
Remember when Caitlyn Jenner said trump would a champion for the LGBTQ community? Well, turns out that was a complete crock of shit. #maddow

— #Resist ✊ (@bruntofitall) February 23, 2017
I wonder how @Caitlyn_Jenner feels now that the man she voted for is taking her rights away.

— Ann T Bush (@AnnTBush) February 23, 2017
Trump & his surrogates say they have no problem with Caitlyn Jenner using the women bathroom but only Caitlyn Jenner & no other trans person

— Roland Scahill (@rolandscahill) February 23, 2017
@Caitlyn_Jenner Then tell them trans kids are bullied mercilessly and many try or are successful at committing suicide.

— Patricia Arquette (@PattyArquette) February 23, 2017
.@Caitlyn_Jenner You're strangely quiet tonight.

— James Patrick Stuart (@japastu) February 23, 2017
Hey @Caitlyn_Jenner, you're awfully quiet as your "president' sends trans kids to a living hell. You are a terrible, TERRIBLE person.

— 44ever (@theonlyadult) February 23, 2017
@Caitlyn_Jenner you supported Trump & now he doesn't want transgender students to use bathroom of their identification. Thoughts.

— Katie (@RI_girl1) February 23, 2017
@Caitlyn_Jenner best joke I've heard all day pic.twitter.com/HEIcqCaQCz

— ~~~~~~ (@jrgllntp) February 23, 2017
@Caitlyn_Jenner Find it very telling on your silence on @realDonaldTrump's lies on defending the Trans community

— Kendow (@KendowGaming) February 23, 2017
[featured image via Featureflash Photo Agency / Shutterstock]
Have a tip we should know? tips@mediaite.com