Here is a Twitter headline that has caused a stir because a number of readers found it misleading:
Missing #StepUp actress allegedly killed herself after sex with her murder suspect and giving him her money https://t.co/MQkEPjxAmS pic.twitter.com/E8SLhierh0

— People Magazine (@people) December 30, 2016
You'll notice that the tweet has been deleted and all you can see is the headline in the above embed. Here is screen shot of the original: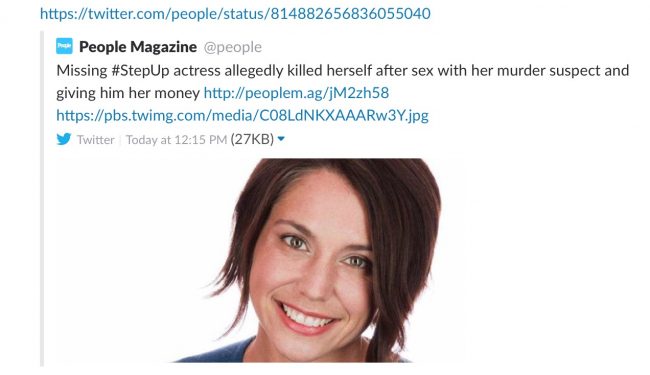 Here is what the story actually says:
Adrian Duane Johnson, the 29-year-old who is accused of [Tricia McCauley]'s murder, told police a bizarre story after his arrest, according to the documents: McCauley killed herself after the two of them had sex and she said he could have all of her money.

"She was suicidal and hung herself in the car," Johnson told police shortly after they spotted him standing by the 46-year-old McCauley's white Scion IQ outside a CVS Pharmacy in D.C. at 11:19 p.m. on Monday, as hundreds of her friends and acquaintances scoured the city for the vibrant woman who worked as an herbalist and yoga instructor.

When questioned by police about why he had been spotted driving her car, Johnson explained that prior to "killing herself, [McCauley] told [him] that he could have all her belongings, including credit cards, money and her car."
The actress and yoga teacher in question was found battered in the back seat of the car. Her legs were tied together, her stockings and underwear were torn, she showed signs of sexual assault, and the autopsy revealed that she had died from ligature strangulation and blunt force trauma. Johnson drove around with her body in the back seat, using her credit card to make purchases, and according to the cops, even picked up a sex worker. He said he thought McCauley might wake up.
Johnson allegedly robbed a CVS that evening, too.
All of that might sound pretty ludicrous to some, but the American legal system is built on the idea that suspects are innocent until proven guilty, as it should be. Sure. That's how it is. That still doesn't mean that a leading magazine should run his version of events as their headline, even to get clicks on Twitter. At the very least, that Twitter headline should make clear that the suspect is the one saying all of this about a woman who is dead and can't tell her own side.
Plenty of people feel that way, most notably among them journalist and lawyer Jill Filipovic:
.@people when you say "allegedly" it makes it sound like the police are alleging it. They aren't. It's her accused killer's bizarre claim.

— Jill Filipovic (@JillFilipovic) December 30, 2016
.@people And I'm sure this tweet got lots of people to click through – I sure did – but what an insulting, disgusting move on your part.

— Jill Filipovic (@JillFilipovic) December 30, 2016
.@people The person alleging this is the man accused of murdering her. It's a claim unsupported by all evidence. This is a disgusting tweet.

— Jill Filipovic (@JillFilipovic) December 30, 2016
@normative @people Right? Absolutely disgusting. Unbelievable they would tweet/write this, and they should be totally ashamed.

— Jill Filipovic (@JillFilipovic) December 30, 2016
Here are a few other responses:
@people this is insanely irresponsible

— Nicole Cairns (@nicoleindc) December 30, 2016
@people This is a horrible headline and so misleading. I feel for this poor woman's family and friends. Do better!

— Jennifer Sacco (@jennyleesac30) December 30, 2016
@JillFilipovic @people The need for "clicks" will be our downfall.

— Re Marzullo (@re_marz) December 30, 2016
@JillFilipovic @people yes this article headline is definitely clickbait!! Shame on you People Mag!!

— Brian (@BrianSMcDonald) December 30, 2016
@JillFilipovic @people A case of #whatarefacts if ever there was one.

— Michael_Rose (@Michael_Rose) December 30, 2016
The tweet is deleted but the article is still up. Its headline attributed the salacious claims to him, at least…
@JillFilipovic @people And what a disgusting headline on the article itself! pic.twitter.com/X5Nx2EycLX

— My Annoying Opinions (@WhiskyOpinions) December 30, 2016
…but has now also been altered to this:
We have reached out to People for comment on the deletion of the tweet and the alteration of the headline.
UPDATE — 4:45 p.m. EST:
We received the following statement from People:
Both the headline in the story and tweet were altered for clarification. We regret the error.
[image: screengrab]
This is an opinion piece. The views expressed in this article are those of just the author.