People Hilariously Think Rachael Ray Cheated With Jay Z Because of Beyonce's Lemonade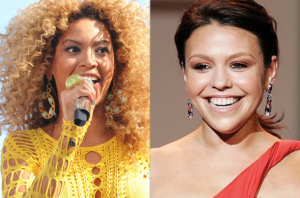 This past weekend brought with it a shocking development in a long-running saga that is poised to change everything moving forward. No, I'm not referring to the Kasich-Cruz collusion looking to block a Trump nom. I'm instead talking about the release of Beyonce's visual album Lemonade on HBO this weekend, which largely reveals presumed infidelities on the part of her husband, rap star Jay Z.
In several of the Lemonade tracks, Queen Bey makes passing references to her spouse's lies — emphatically declaring at one point, "If you try this shit again you gon' lose your wife," — and in one bizarre but hilarious malapropism, people are now aiming their scorn through digital revenge at TV host Rachael Ray completely by accident.
One of Beyonce's more controversial lyrics from Lemonade includes the line, "He only want me when I'm not there / He better call Becky with the good hair," leaving everyone with way too much time on their hands to do a deep dive into the internet to discover who the mysterious "Becky" was.
Enter Rachel Roy — former wife of Jay Z producer Damon Dash and NOT Rachael Ray — who posted a since-deleted Instagram caption making reference to herself (possibly) as the culprit: "Good hair don't care, but we will take good lighting, for selfies, or self truths, always."
But, since it's the internet and people made brash, irrational decisions without verifying anything, people assumed — no, really — that Rachel Roy was Rachael Ray. As a result, poor defenseless Rachael Ray of morning television and healthy Nutrish dog food has been getting hammered from people on social media in the funniest ways possible.
Even more hysterical — and I'm delightedly laughing my ass off while typing this — that the attackers in Beyonce's Batallion have gone after Ray using an Instagram photo she posted… of a "slow cooked pulled beef chili" sandwich:
Nearly 2,500 people have commented on the photo, writing comments such as:
_conceitedryn I'm confused? What does Beyonce do for you & your family? She calls you & tell u happy birthday? Help you out when y'all need gas money or lights out? Y'all don't even know these woman, how funny is it that you can attack a person while defending another & never had an encounter with no closer than your iPhone or tv screen. But noBody can get their lazy asses up to speak & fight for the real injustices to us. What has happened to you people? Have any of you stormed jay z page? And how does this personally effect any of you? We are so damned as a generation?

barclaybass For fucks sake……Beyonce is an overated no talent ho, no wonder Jay went elsewhere for some comfort can you imagine having to listen to that bitch and her sister whine all of the time……and her fans are SOOOO goddamned stupid they can't even blame the right person (who would be her husband you dumb fucks)

skinnykitty6go caramelize some onions hoe!!! leave beyonce and her family alone!

ty_dreadheadedBxtch you guilty by association and the fact yo show boring and Fuck them weak az crock pot, pour and stir az meals ?????????
Then, there's this astute user who seems to have nailed at least part of the problem:
aliciahardin Wow Beyonce fans are morons
On Monday morning, Rachael Ray dared to return to the world of social media to post a photo of a "steak 'salad' with a few #bbq potato chips for crunch!" Will Beyonce's passionate fans ever realize that TV's Rachael Ray did not have a torrid affair with Jay Z? I hope so for Rachael Ray's sake, though these comments make for a pretty funny start to the week.
—
J.D. Durkin (@jiveDurkey) is a columnist at Mediaite.
[images via Wikipedia Commons]
Have a tip we should know? tips@mediaite.com