Photojournalists Protest White House's Aggressive, 'Stalinist' Image-Making of Obama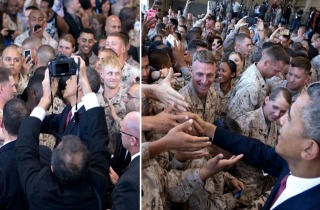 According to a damning report from National Journal Editorial Director Ron Fournier, photojournalists are mounting an effort to push back against President Barack Obama's heavy-handed effort to safeguard the president's image by blocking independent photographers from taking pictures of him. One reporter even compared this White House to the old Soviet style of providing approved photographers with the best images of the president.

"Obama's image-makers are taking advantage of new technologies that democratized the media, subverting independent news organizations that hold the president accountable," Fournier wrote after relating an anecdote of a New York Times reporter who accused the White House of behaving like the Russian news agency ITAR-TASS.
"As surely as if they were placing a hand over a journalist's camera lens, officials in this administration are blocking the public from having an independent view of important functions of the Executive Branch of government," reads a letter delivered today to Carney by the WHCA and several member news organizations including The Associated Press and The New York Times.
"The letter includes examples of important news events that were not covered by media photographers, and yet pictures were taken by the White House image team and widely distributed via social media," Fournier continued. "This happens almost daily."
White House Press Sec. Jay Carney reportedly laughed off the comparison between the Obama White House and the Kremlin. "Oh, so now we're like Stalin?" Carney asked mockingly. According to Fournier's dispatch, the reporters present did not laugh along with him.
Fournier provided a number of examples of public events in which American taxpayer dollars were used to manipulate the public image of the president. He identifies moments in which AP photographers were blocked from accessing key positions in order to provide White House photographers with the best vantage points, ensuring "their photos will go viral."
He offered side-by-side examples of how White House photographer Pete Souza, who has virtually become a household name over the course of the Obama presidency, consistently receives better access to the president than photojournalists.
Fournier concluded by noting that Obama's image-making is no different from the hackneyed, shirtless shots of Russian President Vladimir Putin. "Those are shot and distributed by Tass," Fournier observed.
[Photo via Doug Mills/The New York Times (left), Pete Souza/The White House (right)]
— —
> >Follow Noah Rothman (@NoahCRothman) on Twitter
Have a tip we should know? tips@mediaite.com