Piers Morgan To Testify To British Parliament This Week Over Phone Hacking Scandal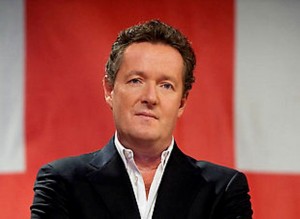 CNN host Piers Morgan is scheduled to testify via videolink to Parliament this week over his potential involvement in any journalistic misconduct that took place when he worked at tabloids such as The Daily Mirror and former Rupert Murdoch publication News of the World. Inquiries into phone hacking have been going on for the past several months, ever since it was reported in July that News of the World reporters were hacking phones of civilians and celebrities for stories.
RELATED: Why Hasn't CNN Reported On Piers Morgan's Hacking Allegations?
Morgan's name was dragged into the story after allegations emerged that an award-winning story from the Mirror published under Morgan's editorship was obtained illegally. The Mirror has denied any phone hacking took place, and Morgan made a statement on his CNN program that no story "was ever gained in an unlawful manner."
For its part, CNN insisted a thorough investigation of Morgan's past was conducted before he was officially given his primetime program. But Morgan still faces questions over statements he has made in the past, and will undoubtedly be asked about them during his testimony.
Interviewed by supermodel Naomi Campbell for GQ magazine before the scandal over the practice boiled over, Morgan said he couldn't get too upset over hacking because "loads of newspaper journalists were doing it."

In an earlier interview for BBC radio unearthed by one of his critics, Morgan appeared to go further, saying it was difficult to condemn private eyes hired to hack into people's phones "because obviously you were running the results of their work."

The "you" in his statement could be interpreted in different ways. Morgan insists he wasn't talking about himself but instead making "a general observation about tabloid newspaper reporters and private investigators."
RELATED: Piers Morgan Defends Himself Via Twitter After He's Accused Of Hacking In Murdoch Hearing
One thing to watch in Morgan's testimony is any interaction between himself and MP Louise Mensch. During initial inquiries into phone hacking, Mensch called out Morgan by name and cited a line in his biography that she thought indicated he had firsthand knowledge of phone hacking. Mensch and Morgan squared off on CNN shortly afterwards, and Morgan pressed Mensch to repeat what she said in Parliament, but she insisted Parliamentary privilege prevented her from doing so. Now that Morgan will be testifying before Parliament, expect that conversation to get more heated.
h/t Associated Press
Have a tip we should know? tips@mediaite.com
Josh Feldman - Senior Editor