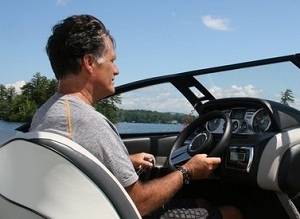 One of the (many) weird things about Republican presidential candidate Mitt Romney is that, while he enjoys dressing up like a police officer, he doesn't really seem to like them very much, as evidenced by two old Romney anecdotes in which he loses his shit on a park ranger at a lake and a traffic cop at the Olympics, respectively. The former incident has been resurrected (again) by Buzzfeed's Andrew Kaczynski, who notes that a recently-uncovered police blotter report contradicts Romney's version of events.
In a 1994 Boston Globe article, Romney recounted his 1981 arrest, which centered around his attempt at illegal motorboating:
As Romney prepared to put his family boat into the water, a park officer told Romney not to launch because his license appeared to have been painted over. The officer told Romney if he put his boat into the water he would face a $50 fine.

Romney felt that his license was still visible and decided to ignore the order from the officer and pay the fine.

"I figured I was at the state park with my kids. My five kids were in the car wondering why we weren't going out in the boat, so I said I'd launch and pay the fine," Romney said in 1994.

Romney said the officer didn't tell him not to launch his boat, just that he would face a fine for doing so.

"I was willing to pay the fine. But if he had said don't launch the boat and not mentioned the fine, I would not have done it," Romney said.

After Romney put the family boat into the water, the officer reappeared visibly angry and arrested Romney for disorderly conduct. Romney was handcuffed on the scene, taken to the local police station, and booked.
The story goes on to say that he was charged with disorderly conduct, and that Romney was released without bail. At least, that's Romney's story, and since he had the court records sealed, that's pretty much all there is to it.
Enter liberal Massachusetts blog Blue Mass Group, who uncovered a copy of the Police Log at the Natick Sun for the date in question. As it turns out, Romney, according to the paper, was hit with the motorboating charge, in addition to the disorderly persons rap, and did have to post bail:
However, the Police Log from the June 18, 1981 edition of the Natick Sun reported as follows (emphasis mine):

Game Warden William Erickson brought Willard M. Romney of Belmont to the police station.  Romney was charged with disorderly conduct and operating an unregistered motorboat.  He was released on bail.

Of course, it's possible that the police log is wrong, and that Romney's version is correct.  It would seem that the only way to find out for sure would be for Romney to ask the Natick District Court to unseal the records.  We hope he will do so.

Also noteworthy is that the 1994 Globe story did not report that Romney had been charged with operating an unregistered motorboat; it mentioned only the disorderly conduct charge, presumably because that is the only charge that Romney told the Globe about.
So, what does this all prove, aside from my own affinity for sophomoric references to motorboating? At first blush, not much, and even at second blush, not really much. The original story, the one that Romney told, has a bit of a Rorschach quality to it, at once humanizing him and demonstrating a sense of entitled arrogance. The inconsistencies Blue Mass Group found don't amount to much, either, as they point out themselves.
However, almost as weird as a Woodward and Bernstein-style deconstruction of a three decade-old motorboating beef is going to the trouble of having the court records from it sealed. That is some epic dedication to opacity that makes particular sense now. Also, "Police Log," heh, heh.
Have a tip we should know? tips@mediaite.com