Police: Muslim Student Fabricated Report About Being Assaulted by Man in Trump Hat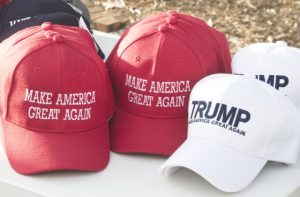 There have been lots of reports, including anecdotes on social media, about minorities being harassed by Donald Trump supporters. Some of these have been documented online. One of them, however, turns out to be untrue.
There was a Muslim student at the University of Louisiana today who reported that she was assaulted by two white men, one of whom was wearing a white "Trump" hat.
This is how an initial report described what she said happened:
Around 11 a.m., a female UL-Lafayette student was walking down a residential street near campus when two white males jumped out of a gray four-door sedan and hit her with a metal object, knocking her to the ground, university police told the Advertiser. The men tore off the woman's head wrap, took her wallet and hit her while she was down, police said. The woman reported one of the suspects was wearing a white hat that had "Trump" on it.
However, the AP reports tonight that the Lafayette Police Department has determined her account was fabricated. They released this statement:
During the course of the investigation, the female complainant admitted that she fabricated the story about her physical attack as well as the removal of her hijab and wallet by two white males.
The ACLU of Louisiana released this statement earlier today on the assault:
The ACLU of Louisiana is outraged at the news of a young Muslim woman being assaulted and robbed of her hijab in Lafayette yesterday morning. The report that her attackers also shouted slurs and wore Donald Trump clothing is especially troubling in light of Mr. Trump's frequent use of anti-Muslim rhetoric on the campaign trail.

We condemn this rhetoric and this behavior. We call on all Louisianians to reject anti-Muslim bigotry. Muslim Americans and residents have the same rights that we all do: to practice our religion freely and openly, to live and work without fear, and to participate equally in public life. To act otherwise is in direct contradiction of the values enshrined in our founding documents and our laws.
After the new reports came out they followed up with this:
The Lafayette Police Department has announced that it has dismissed its investigation of an anti-Muslim attack after the victim recanted her story. We don't know the full story of what happened yesterday, and we don't know what caused her to recant.

What we do know: Threats, harassment, and violence against Muslim men and women, as well as people of color, immigrants, and LGBT people, have been occurring across the nation in recent days. This is not a coincidence.

We stand by our call for all Louisianians to reject anti-Muslim bigotry. Our Muslim neighbors' rights remain unchanged. We will continue to speak out against this harassment and bigotry, and call for equal protection under the law.
[image via screengrab]
— —
Follow Josh Feldman on Twitter: @feldmaniac
Have a tip we should know? tips@mediaite.com
Josh Feldman - Senior Editor