Police Union: University Put Cops in Danger 'At Every Single Turn' During Trump Rally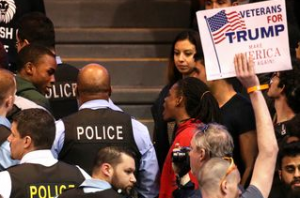 After a Donald Trump rally was canceled last week due to an infiltration of protesters, all eyes were on Chicago. Trump himself spoke out on a few occasions, as did Ann Coulter, Ted Cruz, and President Barack Obama. Now, the Metropolitan Alliance of Police 381, a union that represents the police of University of Illinois at Chicago, is speaking out, too.
In a letter obtained by ABC 7 Chicago, MAP 381 President Anthony Robinson blamed UIC Police Chief Kevin Booker and other university leadership for not having a good plan going into the rally. Part of the letter reads as follows:
We feel that, at every single turn, what we, your officers, needed to perform our job safely and to the best of our abilities was disregarded and ignored. By allowing this, it also placed each and every attendee, student, and VIP in unnecessary danger as we could not provide the appropriate level of protection and safety they deserved.
Among some of the things the leadership did wrong, according to Robinson and the union, were the order they gave to leave pepper spray in lockers, leaving officers with only batons and guns, and the order they gave not to wear protective gloves. They also claimed that Booker himself wasn't even on site when the fights broke out.
UIC has refuted those claims, insisting Booker was present and all officers at the rally had adequate training and were given clearance to use force and protective measures if necessary. They stated that officers were never told not to wear gloves, only that dark gloves look "aggressive."
All of this comes after the police announced that contrary to what Trump has said, they never advised him to cancel his event at all. Interestingly, this is what Chicago Police Interim Supt. John Escalante had to say:
The Chicago Police Department had no role [in the cancelation]. In fact, I can tell you we did assure the Trump campaign that we had more than adequate resources outside the UIC Pavilion and that we guaranteed them we could provide safe access and exit for Mr. Trump.
That contradicts MAP 381 and the Trump campaign.
[image via screengrab]
For more from Lindsey, follow her on Twitter.
Have a tip we should know? [email protected]