Politico Hypes 'Dangerous New Obama Book' While Decrying 'Overheated And Overhyped' Election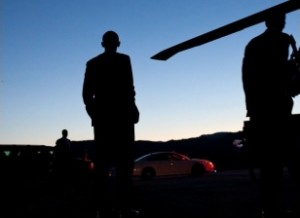 Pioneering website Politico.com's propensity for self-propelled political news hype has become something of a running joke in the media the past few years, and their coverage of David Maraniss' upcoming biography Barack Obama: The Story is a great example of their artistry. Yesterday, they caused a Drudge-fueled maelstrom with an "admission" that turned out to be old non-news, and today, they're  eating themselves over the "dangerous" book that even they say "seems to be a nuanced, even sympathetic portrayal culled from people who still admire Obama."
What's the danger? Apparently, it's that "it remains to be seen how his work will be received in an overheated, overhyped election year."
Yesterday, Politico's Dylan Byers reported that the "New York girlfriend" described in President Obama's 1995 memoir Dreams From My Father was actually a composite character, based partially on Genevieve Cook, whose journal Maraniss draws from in his new book. The piece was picked up by Drudge with a sensational headline, but the fact that Obama used compression and composite characters was noted in the foreword to Dreams From My Father, a fact which Byers later added as an update (two updates, actually).
Now, in fairness to Dylan Byers, the Vanity Fair excerpt of Barack Obama: The Story makes no mention of the disclaimer in Dreams From My Father, even though that would seem to be a natural thing to do. It was a mistake not to check the book, but one which was abetted by VF's failure to make that important notation. If Maraniss didn't note the same in his book, he ought to.
The blame for the hype surrounding Byers' piece, though, ought to fall squarely on Matt Drudge's shoulders. He took the supposed "admission" that Barack Obama based an unnamed character in his book on a number of real people into the headline "OBAMA ADMITS FABRICATING GIRLFRIEND IN MEMOIR."
That's a complete inversion of what Byers actually said. Usually, when you tell your buddies you have a "girlfriend from Canada," you're not covering up the fact that you have a mess of girlfriends from Canada.
However, today's Politico piece (by Byers, Glenn Thrush, with reporting by Carrie Budoff Brown), fans the fuse that Drudge lit, alternately praising the nuance and illumination that the author is expected to bring, then fearing that an overhyped and overheated media will ignore all of that in favor of pulling out a few salacious nuggets:
"In the current Internet-driven craziness in which we live, I fret that, for now, the power of the fleetingly salacious will upend all," said James Warren, former managing editor and Washington bureau chief of the Chicago Tribune and Maraniss friend who helped edit the book.

"Still, if a lot of prospective voters, who do have their doubts about him, actually read it when it comes out, they'll find a portrait of a very ambitious but very shrewd, cautious, thoughtful and intuitive guy. In the same way Maraniss explained people as vividly diverse as Bill Clinton and Vince Lombardi, he nails Obama," Warren added.
The Politico piece only isolates one other section of the seven page excerpt, calling it "disquieting":
Speaking directly to Obama in the diary, she wrote on March 9, 1984, that she had "a sense of you [Barack] biding your time and drawing others' cards out of their hands for careful inspection — without giving too much of your own way — played with a good poker face. … I feel that you carefully filter everything in your mind and heart — legitimate, admirable, really. … But there's something also there of smoothed veneer, of guardedness …"
"I'm still left with this feeling of … a bit of a wall — the veil."
Really? A man in his early twenties who doesn't share his feelings enough? If that's the worst Maraniss has to offer, from his girlfriend's diary, I'm ready to impeach Obama for boredom. I read the entire Vanity Fair article, and you know what I found disquieting? This:
The sexual warmth is definitely there—but the rest of it has sharp edges and I'm finding it all unsettling and finding myself wanting to withdraw from it all. I have to admit that I am feeling anger at him for some reason, multi-stranded reasons. His warmth can be deceptive. Tho he speaks sweet words and can be open and trusting, there is also that coolness—and I begin to have an inkling of some things about him that could get to me.
The sexual warmth? If that was me, I'd be like, "What am I, a duvet? A can of Sterno? Sexual warmth?"
I don't usually read book excerpts, so I don't know if they usually save the best stuff for publication, but the Vanity Fair excerpt is waaay short on salacious, and very long on the emotionally distant outsider theme, with heavy doses of college-age self-absorption. It's intensely humanizing, yet the relative innocuousness of Cook's observations, their predictable fit with the Barack Obama we now know, seem almost calculated to validate him.
Unless there's a chapter that's heavy on hookers and Emergency Room visits, this book is about as dangerous as an Air Supply record.
Have a tip we should know? tips@mediaite.com