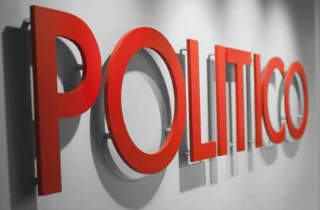 Staffers at the DC news outlet/information fire hose Politico are seeking to unionize, and the effort is being organized by a notoriously outspoken labor reporter.
According to the Washington Free Beacon, the charge to unionize is being led by Mike Elk, the paper's new labor reporter hired back in September. (Prior to his hiring, he wasn't such a big fan of the place.)

Driving the push to unionize are Politico's legendary long hours — allegedly the cause of the outlet's equally-legendary burnout rate — and PoliticoPro, a section of the site that paywalls articles and prevents journalists from getting their byline into the general public.
On Twitter, Elk said that the effort had encountered "almost no opposition" to his plan, which a source told the Free Beacon may take up to a year to implement:
Hey I have unionized every media publication at which I worked – why would @politico be different – labor reporter traditions @TimothyS

— Mike Elk (@MikeElk) January 26, 2015
As Chris Townsend would say at UE, we got a beachhead @politico & are moving inland as we are encoutering almost no opposition #solidarity

— Mike Elk (@MikeElk) January 26, 2015
heck I even talk about wanting to organize @politico in the middle of its newroom floor #NLRAprotectslaborreporterstoo

— Mike Elk (@MikeElk) January 26, 2015
Beltway insiders are reacting with complete "of course"-ing:
I mean, what did Politico editors expect would happen when they hired @MikeElk? http://t.co/0mur9sjRVb

— Emma Roller (@emmaroller) January 26, 2015
[Washington Free Beacon]
[Image via Shutterstock]
—
>> Follow Tina Nguyen (@Tina_Nguyen) on Twitter
Have a tip we should know? tips@mediaite.com