Mike Allen's 'Apology' Apparently Accepted by Limp Politico Editor-in-Chief Despite Clear Policy Violation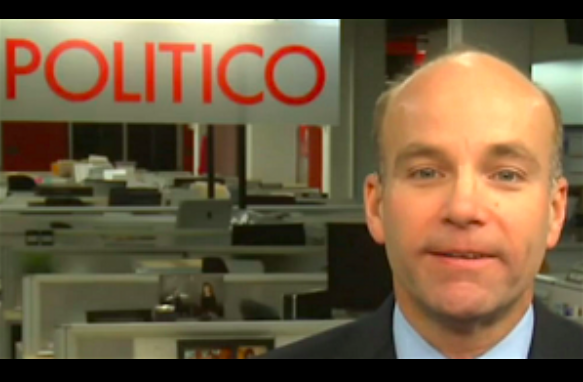 "I apologize if that will make you happy. I still don't know quite what I've done. I've tried to tell you what I did do but if you want me to apologize, if that will make you happy, then OK, I'm sorry."
– John Lennon, The Beatles
"MY BAD! You may have missed a Gawker post last week that rightly took me to task for something clumsy I wrote in an email to Philippe Reines in 2013, seeking an interview with Chelsea Clinton at a Politico brunch. In the email, I said I'd agree to the questions in advance. I have never done that, and would never do that. POLITICO has a policy against it, and it would make for a boring event."
– Mike Allen, Politico
Apologies can be funny things. Truly. And in today's media world, they usually only come after overwhelming evidence pushes the eventual apologizer into a corner where he/she has no choice but to issue one. In the case of Mike Allen, he might as well have gone with Lennon's words instead of the crap sandwich of an alleged apology for his groveling, journalistically-bankrupt attempt to gain interview access to Chelsea Clinton back in 2013. Of course, Mr. Allen has proven to be especially challenged on the attribution front in the form of stealing exclusives from this space in the recent past, so there's a good chance The Walrus wouldn't receive proper credit anyway…
For those who missed it, here's the Allen email (via an exclusive by Gawker's J.K. Trotter) to Hillary Clinton aide Philippe Reines (bold emphasis Trotter's):
This would be a way to send a message during inaugural week: No one besides me would ask her a question, and you and I would agree on them precisely in advance. This would be a relaxed conversation, and our innovative format (like a speedy Playbook Breakfast) always gets heavy social-media pickup. The interview would be "no-surprises": I would work with you on topics, and would start with anything she wants to cover or make news on. Quicker than a network hit, and reaching an audience you care about with no risk.
To review, here's what makes Allen's mea culpa so utterly meaningless: For starters, he claims Politico has a policy against agreeing to questions in advance, yet clearly he does just that. So here's a direct challenge to Susan Glasser, Politico's Editor-in-Chief: If that is publication policy, how is Mike Allen able to write a column this morning instead of being suspended? The Gawker piece exposing Allen's email to Reines was published almost one week ago. Said email was outright collusion via quid-pro-quo (access for no-risk… a Sham-Wow infomercial). Yet all Glasser has stated publicly is that, yes, Politico has a policy against providing questions in advance and yes, the interview never took place. In other words, no harm, no foul, nothing to see here.
Back to Allen, here's what he wants you to believe per his explanation this morning: He's never made an offer like this before, never has since and never will again. You'll all just have to believe him (or wait for another email to be uncovered). But trading no-risk parameters (and in the case below, forgetting/ignoring what those parameters actually were) for access really is nothing new for Politico's White House reporter. Per The New York Times in December of 2014:
For example, last month in Little Rock, Ark., a Politico reporter, Mike Allen, lobbed a couple of unexpected questions at Mr. Clinton after he delivered prepared remarks at the "Playbook Cocktails with Bill Clinton" event. Mr. Clinton made news by questioning whether Mr. Obama's delay on an immigration overhaul affected the weak turnout of Latinos in the midterm elections. Mr. Clinton's team appeared livid with the organizers about the unanticipated questions.

"I had misunderstood the parameters, and I'm very sorry about that," Mr. Allen said.
"I would work with you on topics, and would start with anything she wants to cover or make news on." Yup… that's one of Politico's most heralded writers on full display. And instead of offering up a true apology, he insults not only the intelligence of his readers, but those who once thought he was a credible member of the industry.
But remember, there's a Politico policy against making such promises in exchange for access, so it could never actually happen…
A policy that its limp editor-in-chief in the form of Susan Glasser clearly has no interest in actually enforcing.
— —
Follow Joe Concha on Twitter @JoeConchaTV
This is an opinion piece. The views expressed in this article are those of just the author.