Poll: 45% Of Americans Think Homosexuality A Sin, But 60% Are Okay With It Anyway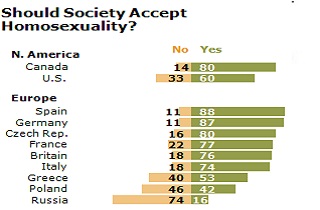 With the Supreme Court poised to make historic rulings on the Defense of Marriage Act and California's Proposition 8 gay marriage ban, and U.S. Senaators coming out for gay marriage at a breakneck pace, along with an NBA player, and twelve states already having legalized same-sex marriage, marriage equality seems like an inevitability. In fact, according to a pair of new Pew polls, even opponents of marriage equality overwhelmingly see it as an inevitability, but even though 60% of Americans think society should accept homosexuality, 45% still think it's a sin.
The good, somewhat obvious news is that 72% of Americans see legal recognition of same-sex marriage as inevitable, including 85% of marriage equality supporters, and 59% of opponents. That 72% total is up from 59% in 2004, and is likely due to the fact that, as the survey indicates, many more Americans (87%) know gay people (or know that they're gay) than in the past.
What's also interesting, and maybe a little disappointing, is that the percentage of Americans who support marriage equality, 51%, is nearly identical to the percentage who say they have a close friend or family member who is LGBT. This is a possible indication that equality rests largely in the hands of The Portman Effect. The survey also showed that Americans are evenly split, at 45% each, over whether homosexual behavior "is a sin," while 62% say legalizing gay marriage would go against their religious beliefs.
However, another Pew poll this week shows that 60% of Americans think that society should "accept homosexuality," while 33% said it should not. That poll measured attitudes about homosexuality in 39 countries, with the United States tied for 13th most-accepting country:
The survey of publics in 39 countries finds broad acceptance of homosexuality in North America, the European Union, and much of Latin America, but equally widespread rejection in predominantly Muslim nations and in Africa, as well as in parts of Asia and in Russia. Opinion about the acceptability of homosexuality is divided in Israel, Poland and Bolivia.

Attitudes about homosexuality have been fairly stable in recent years, except in South Korea, the United States and Canada, where the percentage saying homosexuality should be accepted by society has grown by at least ten percentage points since 2007.
The study's conclusion about the differences may come as a surprise to those who think that the United States is a "Christian nation":
The survey also finds that acceptance of homosexuality is particularly widespread in countries where religion is less central in people's lives. These are also among the richest countries in the world. In contrast, in poorer countries with high levels of religiosity, few believe homosexuality should be accepted by society.
All in all, these polls are a mixed bag. It's good that a majority of Americans support marriage equality, even if some of them believe it's a sin, and even more of them believe it's not a sin, but still against their religion. People are weird.
Have a tip we should know? tips@mediaite.com