Poll: Americans' Outlook Ahead Of 2013 Bleakest It's Been In More Than A Decade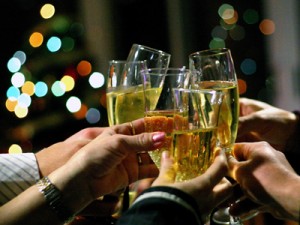 According to a new Washington Post/ABC News poll, Americans aren't feeling particularly optimistic about 2013. The public's outlook, particularly among Republicans, are "bleaker than they've been in more than a decade."
Fifty-three percent of respondents said they were "hopeful" about their lives in 2013, compared to 44 percent who said they were "fearful." On a more general note, asked how they feel the next year will fare for the world, the response was more pessimistic. A record low of 40 percent said they were "more hopeful," while 56 percent said "more fearful."
As for specific issues, more than three quarters of respondents felt the country is still in a recession, with nearly six in 10 expressing concern about the economy is a fiscal cliff deal isn't reached.
Some context, per WaPo:
Those personally hopeful numbers are down sharply from four years ago when 63 percent said as much in the wake of President Obama's historic first election. The trend is even more striking compared to expectations for 2007, before the national economic bubble burst. In December 2006, nearly three-quarters were more hopeful than fearful about the coming year.
And the Republican/Democrat comparison:
Republicans and Democrats report far different readings on the recovery as well as the hopes for their personal lives. Over seven in 10 Democrats say the economy is beginning to recover, but fewer than half as many Republicans – 35 percent – see the economy making a turnaround.

Rising fears are concentrated among Republicans, peaking at 72 percent and up a remarkable 52 percentage points from 2006. In 2008, after Obama's victory, Republicans split 44 to 54 percent between hope and fear.

Democrats are far more positive, with 75 percent hopeful about their personal lives, exactly the same as 2008. Even during George W. Bush's presidency, majorities of Democrats expressed a hopeful outlook. Independents splits about evenly between hope and fear.
Have a tip we should know? tips@mediaite.com