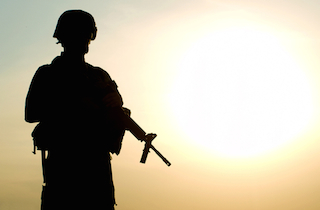 A new Quinnipiac poll found Americans support the use of ground troops against ISIS by a 2-1 margin, with 62% support sending ground troops against ISIS versus only 30% who oppose.
Democrats support ground troops 53-40, while independents support the possibility by 60-35. Even younguns aged 18-34 overwhelmingly support ground troops. (Quinnipiac should have polled the possibility of reinstituting the draft.) Meanwhile 39% worry that military efforts will go too far, while 53% worry it will not go far enough.
These numbers are a culmination of a sea change that started last summer, when ISIS' beheading videos and a steady stream of hawks on the Sunday shows combined to increase public support of grounds troops. Previously a war-weary American public had disdained of yet another Middle East troop deployment, with only 37% supporting ground troops.
Quinnipiac did not explicitly distinguish between the limited use of ground forces and a heavier deployment. An NBC News/Marist poll last month found a plurality (40%) supported "limited" troop deployment, with an even split between those favoring heavier deployment and no troops at all.
Obama's proposed Authorization for Use of Military Force currently before Congress calls for ground troops to be deployed in "limited circumstances." In Quinnipiac's poll, Democrats and independents more strongly supported Obama's AUMF than they did ground troops in general, by 19 and four percentage points respectively, while more Republicans supported ground troops than Obama's AUMF by 13 percentage points.
69% of Quinnipiac respondents believed the U.S. would defeat ISIS, though NBC found that number changes when you include "Obama" in the question.
[h/t Quinnipiac]
[Image via Shutterstock]
——
>> Follow Evan McMurry (@evanmcmurry) on Twitter
Have a tip we should know? tips@mediaite.com