Poll: Kasich Continues to Close Gap in Ohio, Where Romney is Deeply Unpopular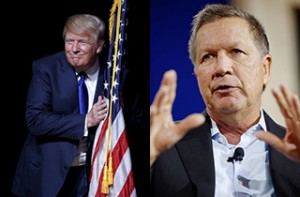 Ohio Gov. John Kasich continues to close the gap with Donald Trump in his home state, according to a new poll released Monday. But the same cannot be said of GOP establishment darling and the convention's potential dark horse Mitt Romney, who is deeply unpopular among Republican voters polled in the crucial Buckeye State.
The poll from Public Policy Polling (PPP), a Democratic-aligned North Carolina-based polling firm, was conducted among Ohioans from March 4 to 6 — in the days after Romney made his blistering assault on the GOP frontrunner, stirring up speculation that he might try to take advantage of a brokered convention and become his party's eventual candidate — a notion he has denied. Respondents were 75 percent Republican, 20 percent independent or other, and 5 percent Democrat. Seventy percent described themselves as either "very conservative" or "somewhat conservative."
The most recent Ohio poll prior to PPP's, conducted between Feb. 16 and 21 by Quinnipiac, also showed Kasich in second with five points behind Trump (26-to-31). The new PPP poll shows him edging closer to the frontrunner, three points behind (35-to-38) — a lead which is within the 3.9 percent margin of error.
In a head-to-head against Trump every candidate lost, except for Kasich who won 55-to-40. Furthermore, Kasich has a 70 percent favorable rating — the highest of any candidate. (Trump, the second-closest, has a 48 percent favorability rating.)
Marco Rubio and Romney fared far worse. Rubio, who still leads Kasich in national polls, is the least favored candidate in Ohio, trailing with 5 percent support and 33 percent favorables, the same favorables as Romney. Rubio lost in a head-to-head with Trump 51-to-41, while Romney lost 52-to-36.
Have a tip we should know? tips@mediaite.com