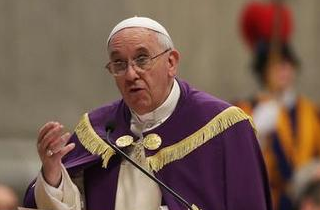 Perhaps he was just attempting to illustrate a point about the nature of the Holy Spirit, but in a homily delivered on Monday, Pope Francis said that if a group of Martians landed on earth and asked him to baptize them, he would absolutely do it, because it's not up to him to determine who can receive the Holy Spirit.
"If – for example – tomorrow an expedition of Martians came, and some of them came to us, here… Martians, right? Green, with that long nose and big ears, just like children paint them," Francis said, according to the Catholic News Service. "And one says, 'But I want to be baptized!' What would happen?"
Personally, we think that' he's describing a troll, not a Martian, but whatever, semantics, and also, that's an adorable description of Martians.
But this scenario (and possible sci-fi novel premise, jump on it, writers) is based on a crucial moment in early Christian history, when a group of pagan Gentiles approached Peter and asked to be baptized. In what was then a controversial move, Peter decided to allow them into the Church, despite the fact that they didn't come from a Jewish background.
"When the Lord shows us the way, who are we to say, 'No, Lord, it is not prudent! No, let's do it this way,'" Francis said. "Who are we to close doors?" And if an alien gets visited by the Holy Spirit, then sure, he can join the Church.
Pope Francis is truly the most progressive Pope the Church has had in hundreds of years.
[h/t The Wire]
[Image via Max Rossi/Reuters]
—
>> Follow Tina Nguyen (@Tina_Nguyen) on Twitter
Have a tip we should know? tips@mediaite.com