Preacher / Radio Host Suing Rachel Maddow Demands That 'Scorned,' 'Leftist Judge' Be Disqualified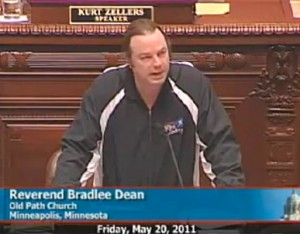 Bradlee Dean, the preacher and conservative radio host who sued Rachel Maddow and NBCUniversal for defamation, is now fighting to get the judge presiding over the case disqualified.
RELATED: WorldNetDaily Publishes Photo Of Rachel Maddow Being Served Bradlee Dean Lawsuit
Dean had sued the MSNBC host over claims that she had misconstrued comments he'd made about gays and lesbians. In a segment on her show dubbed "Scary Home Companion," Maddow reported on a comment Dean had made on his radio show. "Muslims are calling for the execution of homosexuals in America," he had said, adding that God will not hesitate use a "foreign enemy" to take care of the problem of homosexuality if "America won't enforce the laws."
Maddow and NBCUniversal have called the lawsuit "baseless."
The Hollywood Reporter breaks down how the case has unfolded so far:
Maddow tried to knock out the lawsuit on First Amendment grounds, and just before DC Superior Court Judge Joan Zeldon was about to make a ruling, Dean motioned to voluntarily withdraw the lawsuit. He then filed a new complaint in federal court in a strategic move to escape the D.C. Anti-SLAPP Act.

But Maddow wouldn't let Dean walk away from the Superior Court, and what's more, wanted Dean to pay sanctions. Two weeks ago, Judge Zeldon ruled that Dean and his ministry, You Run But You Cannot Hide International, could only dismiss the lawsuit without prejudice if he paid Maddow $24,625.23 in attorney's costs. Now, Dean is in an awkward situation. In order to pursue Maddow in the federal lawsuit — which has been stayed — he has to pay the television personality he hates.

And so, on Tuesday, Dean sought to have Zeldon, a "leftist judge" who he believes is acting like a "woman scorned," disqualified.
Dean believes that Zeldon, who is on the brink of retirement, is pursuing the case just to "spite" him and is exhibiting "extra-judicial bias and prejudice."
Have a tip we should know? tips@mediaite.com