Presenting Mediaite On VYou — Where You Can Ask Questions To Our Face (Kind Of)!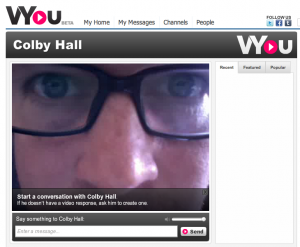 Mark this moment, everyone. This is the second that the Mediaite team stops being faceless names on a screen and finally becomes fully-fledged people. How is this possible? Well, Mediaite has joined up with the great, new service VYou, which will enable you all to communicate with our writers and editors in a brand new way! Yes, reader, here in The Future you will now be able to hear us and see what we look like!
I know. Gross.
So, what is VYou? Well, for those of you who are well-versed in social media innovations, it's easiest imagined as the Chatroulette to FormSpring's Omegle. For those of you that don't speak "geek chic," it's a website where users can create profiles so anyone else can ask them questions. The users then answer through recorded videos. Here at Mediaite, we see it as a great way for all of you to get to know us a little better!
But, it's not just Mediaite! In addition to the current profiles of Colby, Alex, Mark, and myself, many other folks from the Abrams Media Network are members as well (with more to come!) So, say you want to ask a fashion question and are unimpressed with the variety of faded t-shirts I showcase in my videos. Then just ask Verena von Pfetten from Stylite!
Now, we're all still new to VYou (just as VYou is new to, well, everything), so consider this a bit of an experiment. We've got high hopes for it, though, so get on over there and start asking us questions! However, keep in mind that we choose which ones we're going to answer, so you'll probably have less luck with questions like "Why are you so stupid, idiot?"
Unless you're asking Colby. He totally likes that kind of thing.
Have a tip we should know? tips@mediaite.com