President Obama Denounces Hamas In Speech At Joint West Bank Press Conference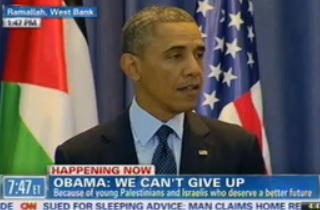 On Thursday afternoon in Ramallah, on the West Bank, President Obama continued his current Middle East trip by delivering a speech at a joint press conference with Palestinian Authority President Mahmoud Abbas. The President spoke about the U.S. government's commitment to the creation of an independent, contiguous Palestinian state, and denounced Hamas both broadly, and for rocket attacks on the Israeli border town of Sderot over the past several days. He also discussed issues of contention, such as settlements and access to holy sites.
The President began by referencing his previous trip to Israel and Palestine, as Senator and candidate Obama in 2008. "I was last year five years ago," President Obama began, "and it's a pleasure to be back, to see the progress that's happened since my last visit, but also to bear witness to the enduring challenges to peace and security that so many Palestinians seek."
"I've returned to the West Bank because the United States is deeply committed to the creation of an independent and sovereign state of Palestine," Obama continued. "The Palestinian people deserve an end to occupation and the daily indignities that come with it. Palestinians deserve to move and travel freely, and to feel secure in their communities. Like people everywhere, Palestinians deserve a future of hope, that their rights will be respected, that tomorrow will be better than today and that they can give their children a life of dignity and opportunity. Put simply, Palestinians deserve a state of their own."
President Obama went on to commend President Abbas for the progress they've made, and expressed condolences for the Palestinians who were killed in a recent bus/truck collision in Jordan.
He then talked about the positive differences he sees in Ramallah since his last visit, and noted that the development of businesses and institutions "stands in stark contrast to the misery and depression so many Palestinians continue to confront in Gaza, because Hamas refuses to renounce violence, because Hamas cares more about enforcing its own rigid dogmas than allowing Palestinians to live freely and because, too often, it focuses on tearing Israel down rather than building Palestine up.
"We saw the continuing threat from Gaza again overnight," the President added, "with the rockets that targeted Sderot. We condemn this violation of the important cease fire, a violation that Hamas has a responsibility to prevent."
President Obama also read out some of his talks with Presidet Abbas, including the U.S. commitment to "an independent, viable and contiguous (Palestinian) state alongside the Jewish state of Israel," the importance of direct negotiations, and challenges like "problems caused by continued settlement activity, the plight of Palestinian prisoners, and access to holy sites in in Jerusalem."
He also talked broadly about plans for the peace process. "Secretary of State John Kerry intends to spend significant time, effort and energy in trying to bring about a closing of the gap between the parties," Obama said. "We cannot give up on the search for peace. Too much is at stake.
The President also tried to personalize the conflict, saying "Those of us in the United States understand that change takes time, but it is also possible. because there was a time when my daughters could not expect to have the same opportunities in their own country as somebody else's daughters, in their own country. What's true in the United States can be true here as well."
President Obama concluded by reassuring "all the people here, and throughout the region," that "you will have the President of the United States and an administration that is committed to achieving that goal."
Here's video of the President's remarks, from CNN:
Follow Tommy Christopher (@TommyXtopher) on Twitter.
Have a tip we should know? tips@mediaite.com