President Obama Did Not Bum a Cigarette From Anyone on Air Force One 2 Days Ago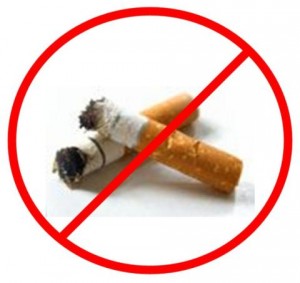 During White House Press Secretary Robert Gibbs' weekly Twitter Q&A, the issue of the President's struggle to quit smoking came up, and Gibbs confirmed an observation that he made earlier in the month that he had not "seen or witnessed evidence of any smoking in probably nine months."
Responding to a question from @CJStatler, Gibbs declared, unequivocally, that "POTUS hasnt' had a cigarette in about 9 months."
In fact, aside from a press staffer who shall remain nameless, the only person I've seen still smoking at the White House is the idiot who just had a heart attack.
The title of this post is a reference to fictional fill-in Press Secretary Joshua Lyman's insistence that The West Wing's President Josiah "Jed" Bartlet hadn't smoked in two years, to which a reporter replied "He bummed a cigarette from me on Air Force One two days ago."
There's little danger of such a revelation here, as Gibbs is in a position to know, firsthand, whether the President has slipped off the wagon. For what it's worth, I have also periodically confirmed this with sources who would know. In fact, you'd be surprised at how much helpful information people will volunteer while they're busting your chops about smoking.
That leads me to my own smoking recidivism. I have agonized about outing myself as a relapsed smoker, for many of the same reasons the President surely had for quitting. It's an incredibly destructive habit, and sets a ppor example to those whom we would least like to see pick it up.
In my case, though, there's the aggravating factor of dumbassery at jeopardizing my already shaky health, plus the very real possibility of physical violence from friends and colleagues who stood by me during that crisis.
Quitting smoking is incredibly tough. Since my heart attack, I haven't missed a beat in abstaining from sugar, alcohol, potatoes, even salt, but after a few weeks in the hospital, I couldn't hack it in the real world without cigarettes. I applaud recent efforts to warn of the dangers of smoking by putting graphic images on the packs, but you could force tobacco companies to package cigarettes in actual dead bodies, and many smokers would just say, "Scalpel!"
This makes President Obama's accomplishment all the more impressive, considering that, while I have trouble getting through a press briefing without a cigarette, he has quit while being the leader of the free world. Hopefully, his example will inspire other smokers to quit, myself included.
In the meantime, I deserve all the grief I get over this, because people too numerous and wonderful to mention gave me a lift when I needed it most, and I am letting them down. If the President can do it, maybe I can, too.
Have a tip we should know? tips@mediaite.com