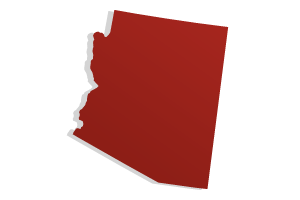 Could the reliably red state of Arizona be turning blue? According to a new poll of 488 registered voters out of Arizona State University's Merrill/Morrison Institute, President Obama and Mitt Romney are running neck and neck with 42% of registered voters in Arizona for Romney and 40% supporting Obama. The margin was within the poll's sampling error of plus or minus 4.4 percentage points.
The poll found that 80% of Republican respondents said they would vote for Romney, with 78% of the poll's Democrats supporting Obama. The poll's relatively small sampling of independents are veering more towards Obama (38 percent) over Romney (28 percent). "However," the poll notes, "the independent vote is still up for grabs because 34 percent of independents said they are undecided."
"In Arizona, like the rest of the nation, political independents may determine who wins in November," said poll director Dr. Bruce Merrill in the statement. "The eventual outcome also may be dependent on whether former Surgeon General Richard Carmona can mount a vigorous campaign for retiring Sen. John Kyl's seat, a campaign that would stimulate turnout in the Hispanic community. While I think if the election were held today Romney probably would win, it appears Obama can mount a competitive campaign in Arizona."
The Democrats have only won The Grand Canyon state once before: Bill Clinton in 1996. Obama lost Arizona to John McCain by 8.5 points in 2008.
Question wording:

If the presidential election this fall ends up as a choice between President Obama and former governor Mitt Romney, would you vote for Obama or Romney?

Obama 40%

Romney 42%

Undecided/no opinion 18%

—

Regardless of who wins the presidency in November, after the election is over would you rather have the Republicans or Democrats in control of Congress?

Republicans 41%

Democrats 40%

Undecided/no opinion 19%
Have a tip we should know? tips@mediaite.com