Presidential Florist Allegedly Escorted from White House; Everyone Puts on Their Scandal Hats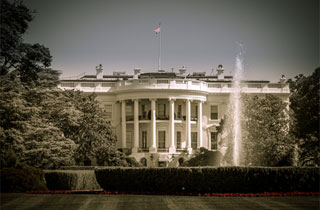 There is a florist proto-scandal sprouting in the White House, which means that everyone is going to go nuts: according to multiple sources, head florist Laura Dowling abruptly left her position last month and no one knows why.
The Washington Post reports that Dowling was escorted out of the White House on February 13th — either Friday the 13th or the day before Valentine's Day, depending on what your mental image of The Scandal is.
Unlike most of the White House's high-profile lifestyle hires, however, Dowling's exit was not announced, and when the Post pried — a month after Dowling left, mind you — got some sort of boilerplate from the First Lady's office:
"As Chief Florist, Laura Dowling and her team treated guests of the White House to their beautiful floral arrangements. Ms. Dowling's creations were always lively and colorful, reflecting not only the season but the unique and historic rooms which they graced. No two arrangements were ever the same and each one left guests with a lasting impression of the elegance and history of the People's House. We are grateful for her contribution over the years and wish her well."
This is weird only if you've followed the departures of other White House staff, like pastry chef Bill Yosses and personal chef Sam Kass, which were announced with significant fanfare and actual quotes from the Obamas themselves. It's also weird if you knew how Dowling was hired in the first place:
After four rounds of cuts, Dowling and two other finalists went petal to petal in a reality TV-style competition that included designing a floral arrangement for a mock state dinner. Dowling, who is known for her organic and less formal "French look," won the title and succeeded retiring florist Nancy Clarke, who'd held the top post for three decades.

At the time, Dowling was so excited about the big news that she scooped her bosses, announcing the new gig on Facebook before the East Wing had the chance to release its own statement. "Laura Dowling is excited and honored to be named the new White House florist," wrote Dowling herself in a Sunday night post. The next day, the White House confirmed that she'd been working at 1600 Penn for a week.
The Post also learned that she had not been replaced, which is a bit of a problem, considering that the White House will soon throw a state dinner for Japanese Prime Minister Shinzo Abe, and flowers are a rather crucial component when hosting a state dinner.
And the third weird thing: when the Post reached out to Dowling for comment, she responded via her lawyers at the renowned firm Sidley Austin, saying she resigned "to pursue exciting new opportunities and explore my passion for floral artistry and design" and plans to launch "a new platform for my work as an author, speaker, instructor and design consultant." In other words, no comment. Also, why does a florist need to hire someone from Sidley Austin? Wooooaaaaahhhhhh scandalllll whoooooaaaaa.
Considering that the Washington Post's style Section was responsible for uncovering the Downton Abbey-style office that sparked the Aaron Schock investigations, we will pay very close attention to what is going on with this crazy-maybe-a-scandal florist brouhaha.
UPDATE (6:12 p.m.): The Washington Post has more on this scaaanndaaaallll:
In this town, matters of taste — much like positions on marriage equality — can "evolve" over time. Just ask Dowling, who left because her "fussy style" was not in line with the first lady's emerging modern and clean aesthetics, several sources said.

Laura's work "is just different. I'm not sure if it was right for the White House," said one top floral designer in the area who has done freelance florist work for splashy big events at 1600 Penn. This designer, like many we talked to, spoke on the condition of anonymity because "the floral community is very small, and nobody wants to put down anybody's work."…

But recently the first lady has debuted a different aesthetic at the executive mansion. Last month, the White House revealed the newly refurbished and now decidedly modern Old Family dining room, a tour stop previously unavailable to the visiting public.
[The Washington Post]
[Image via Shutterstock.com]
—
>> Follow Tina Nguyen (@Tina_Nguyen) on Twitter
Have a tip we should know? tips@mediaite.com