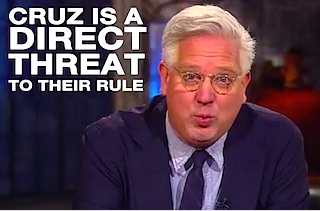 Last week, Glenn Beck declared that he is "done" with the Republican Party once and for all. But, as a new video posted to TheBlaze's YouTube channel reveals, he is not done with Republican presidential candidate Ted Cruz.
Following Cruz's campaign announcement on Monday, Beck has released a video that looks a lot like a campaign ad for the first GOP candidate to declare.
"The real battle is with the establishment GOP," Beck says into the camera, his words appearing on screen beside him as he speaks. "Cruz is a direct threat to their rule," he adds, literally applauding the candidate.
Beck predicts that the "establishment GOP" will try to "crush" Cruz, leaving "another progressive Republican candidate" to take on the Democratic nominee in 2016. "I want somebody who's willing to stand on principles," Beck says. "I don't care if they have a lesser chance of winning. What is the point of winning? We've won."
"I'm done with the GOP," Beck reiterates, showing a clip of Karl Rove, who essentially said he will not be missed during an appearance on The O'Reilly Factor Friday night.
"There's no Glenn Beck who worked for Fox or now works for TheBlaze who's a political contributor," Rove told Bill O'Reilly last week, perhaps implying that Beck was never a member of the GOP to begin with. In response, Beck said Rove had "the spine of a worm, the ethics of whores, and the integrity of pirates."
But by aligning himself with Cruz — a Republican senator who is running for the Republican nomination — isn't Beck in essence aligning himself with the Republican Party? Unless Cruz decides to run as an independent, he will be reliant on the GOP to help him reach the general election.
Watch video below, via TheBlaze:
[Photo via screengrab]
— —
>> Follow Matt Wilstein (@TheMattWilstein) on Twitter
Have a tip we should know? [email protected]