Press Corps Largely Uncertain Who Will Replace Gibbs, But Bill Burton Most Frequently Named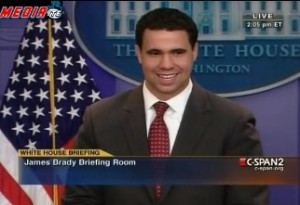 Since White House Press Secretary Robert Gibbs announced his imminent (early February) departure from the White House, speculation about his replacement has centered around Gibbs deputies Bill Burton and Josh Earnest, and Vice President Biden's Press Secretary, Jay Carney. After today's White House briefing, I tried to get a sense of where things stand by informally polling my colleagues, and while Burton's was the only name that came up, the "I don't knows" were far more numerous.

Out of the 20 or so White House correspondents I spoke with, only 5 or 6 would even hazard a guess (surprising for a group not known for its shyness), and they all mentioned Burton. Almost everyone else said they had no idea, even a few whose access is such that you'd expect them to know something.
The only other response I got was that two different veteran correspondents told me that it wouldn't be any of the current short-listers.
I also asked several White House staffers, who were predictably tight-lipped. One frighteningly joked that I was in the lead for the job.
This sort of informal might seem like a waste of time (and it might be one), but it was by this same method that I predicted that Kirsten Gillibrand would get Hillary Clinton's Senate seat. I polled my confidential sources, and although Gillibrand was not a heavy favorite, her name came up (as a guess) the most often among my sources.
It's possible that, with several weeks to go until Gibbs departs the White House, there really is nothing to know at this point. While all of the currently-bandied candidates are well thought-of, especially Burton, there continues to be a sense of anticlimax, since whoever the next press secretary is, he won't have the kind of Oval Office access that Gibbs did.
Have a tip we should know? tips@mediaite.com