Last week, we had the distinct pleasure of attending the launch party for a new site created and written by female comedians: the G.L.O.C. ("Gorgeous Ladies of Comedy"). Kristen Schaal – whom you likely know from such programs as Flight of the Conchords and The Daily Show – was on hand to read from her new book, Sexy Book Of Sexy Sex, and attendees had the option of getting made over to look like a beautiful lady or a beautiful zombie lady. Raffle prizes were given out, obscenities were shared, and party-goers did something approximating dance moves. Our interest was piqued.
So, this week, we decided to have a chat with the site's founder, Glennis McMurray (pictured below), in order to get to know the site a little better. First off: What's with the name?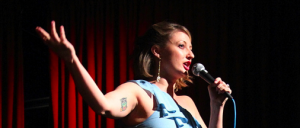 As it turns out, McMurray – who launched the site in November of 2010 – was inspired by her fiance's love for G.L.O.W. (for the woefully uninitiated, that would refer to the "Gorgeous Ladies of Wrestling"). Besides being a funny name with a decidedly eye-catching acronym, McMurray says it serves several purposes: It works to bolster her idea that every woman is gorgeous; it can serve as something more synonymous with "fantastic" than, you know, "conventionally beautiful;" and it pokes a little fun at the recurring (and, frankly, boring) dialogue on whether it's possible for a woman to be both funny and, well. Gorgeous.
McMurray says that, based on her own experience in comedy (she was trained at the UCB theater in New York), it seems that many of her colleagues felt the need to change the way they presented themselves by "dressing down" and joining the presiding "boys' club" in comedy. She hopes to prove that joining 'em if you can't beat 'em isn't necessary, as well as fight the impression that female comedians can only perform "lady jokes," about, say, our dewy roses and our monthly visitor and all the other hackneyed euphemisms associated with "lady comedy." Because, as it turns out, some of us just want a platform to be weird, and not necessarily cute or popular or gross in a way specially calculated to make bros high five us.
This reminded us of a question our own beloved sister site, The Mary Sue, was repeatedly asked when it first launched: Why a comedy site for women? Doesn't this create a deeper divide between men and women trying to make it in comedy?
McMurray points out that the divide is obvious, and something many women have to contend with, so why not offer a place for women to highlight one another's accomplishments and shows? (That's right: If you're a funny lady with a show coming up, you can share it on the G.L.O.C. in the hopes of tricking people into paying a two drink minimum reaching out to comedy fans.) Additionally, McMurray hopes the site will lend encouragement (and resources) to women just starting out in the business.
Eventually, McMurray is working towards establishing the G.L.O.C. as a woman-helmed alternative to sites like "College Humor" or "Funny of Die," with contributions from a variety of well-known comedians. For now, you can read up on why it's a good (Albeit terrifying!) idea to do a one-woman show and enjoy a Q & A with the aforementioned (charming) Ms. Schaal.
See? Nary a shoe, relationship, nor tampon joke in the bunch.
Have a tip we should know? tips@mediaite.com