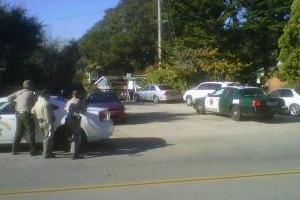 Cable nets and local news stations in Santa Cruz, California are following a developing story: the escape of a prisoner–described as 6 feet 7 inches and 275 pounds–who overpowered a female sheriff's deputy, stealing her gun and using a Taser on her.
According to local news reports, the prisoner, identified as Maurice Ainsworth, was being transported to a hospital for a "medical procedure" when he managed to get the officer's .40 caliber handgun. That weapon may have been used to fire a shot at a bystander as Ainsworth made his escape.

Ainsworth was scheduled for a jury trial on Jan. 10, 2011. In total he faces four counts of felony robbery, one count of felony burglary, three counts of kidnapping, discharging a firearm and two counts of auto theft.

Ainsworth, who was initially wearing a yellow jumpsuit, had changed to a brown jacket and plaid pants. He was first reported running in the area between Salisbury Drive and Brookwood Drive possibly near a preschool. The Secret Garden Too and a medical marijuana collective are in the area where police are searching.

Sandy Kaplin, who works at the Secret Garden Too preschool at 3205 Salisbury Drive near the hospital, had just started her lunch duties when she heard screaming. She thought it was the kids. It wasn't.

It was a parent in the infant room screaming that there was a man with a gun.

Kaplin said she ran out the front door. Cathy Latorre, who owns the preschool, has been in contact with police and said the 30 children in the preschool are fine.

Deputies are swarming the area looking for the escaped prisoner.
The escapee–who is believed to have briefly held a group of people hostage–has a felony conviction for buying and selling stolen property, and convictions for auto theft and felony injury of a peace officer.
Sounds like a great guy.
Have a tip we should know? tips@mediaite.com