Pro-Trump Judicial Watch Founder Calls for Bill Shine Investigation: 'Deeply Disturbed' By His 'Influential Position'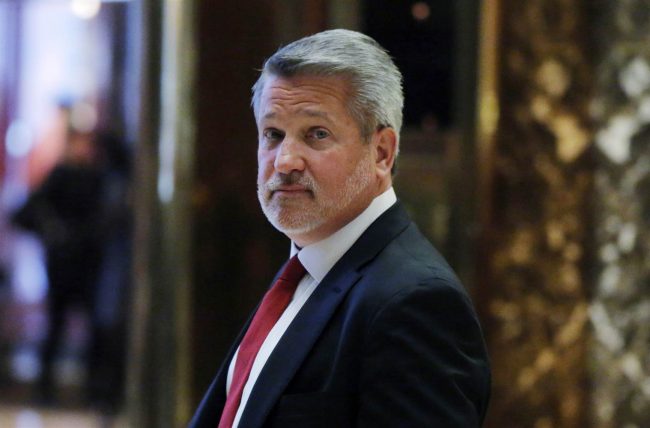 Newly minted White House Communications Chief Bill Shine is getting some surprising push back from one of President Donald Trump's ardent supporters, conservative Larry Klayman.
Klayman, founder of Judicial Watch, a conservative activist group, penned a letter to federal prosecutors requesting the Department of Justice launch an investigation into Shine, the ex-Fox News president who allegedly served as the henchman for ousted CEO Roger Ailes.
"As a strong supporter of President Trump, I am deeply disturbed that Mr. Shine, who has had a questionable past and background, is now serving in an influential position in our government," Klayman wrote in the letter released Thursday. "Again, apparently the president took the bad advice of Sean Hannity to hire Mr. Shine. However, the development of Mr. Shine's hiring makes it even more critically important that the Department of Justice act in an expeditious manner to investigate Mr. Shine's actions as the chief lieutenant of Mr. Ailes during the same period these allegations cover."
Klayman cited a list of stories appearing on Twitter and in reputable publications detailing Shine's allegedly criminal past, including sexual harassment cover ups, potential hacking of reporters' devices and psychological torture of an employee.
But Klayman's concerns weren't limited to what he'd read in the news, his letter also discussing behavior he claims to have seen with his own eyes.
"During the time that I was chairman and general counsel of Judicial Watch, a female client and I personally experienced aggravated mistreatment of her by Roger Ailes and Mr. Shine," he said. "A host of Fox News had smeared my client on national television, causing great psychological emotional distress and pain, and then failed to adequately correct it. From my perspective, the allegations against Mr. Shine, Mr. Ailes' 'alter ego,' thus come as no surprise. The two were apparently joined at the hip!"
Shine has come under fire ever since his appointment by Trump, the outrage being ignited not only by accusations of his compliance in sweeping sexual harassment and assault under the rug, but also being fueled by the discovery of racist social media posts from his wife, Darla Shine.
[Image via screengrab]
Follow Amy Russo on Twitter: @amymrusso
Have a tip we should know? tips@mediaite.com