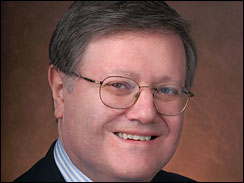 Longtime producer Steve Friedman will be Dylan Ratigan's new 4pmET Executive Producer, MSNBC announced today.
It marks a return for Friedman to the NBC family – the network that epically bashed him three years ago.
Today in the release, MSNBC President Phil Griffin had kind words. "Steve Friedman is a legend in the industry and brings a wealth of experience to Dylan's show," he said. "I worked for Steve at the TODAY show for several years and know first hand that he's as inspiring and knowledgeable as anyone in the business."
But it was in April 2007 that Friedman, while running CBS' The Early Show, spoke to Page Six about the Today show losing ratings. The Today show, Friedman's former home, did not take too kindly to this. In a rare, on record, statement, spokesperson Lauren Kapp told Page Six this:
What's amazing is that this third-rate producer not only continues to have employment in this industry, but is even considered a player in the morning news arena. Steve Friedman's resume is made up of pink slips and failed shows… Today continues to attract more than double the viewers CBS piddles in daily, and I can't imagine why CBS execs would try to save a sinking ship with the captain of the Titanic."
The revolving doors in the media world can be funny sometimes. Welcome back Steve!
To get an idea of the lengthy career of Friedman, here's his work history from the release:
Friedman's career began at WBBM Radio in Chicago before being named Executive Producer of NBC's "TODAY" in 1980. In 1987, Friedman became President of Grant Tinker's East Coast division of GTG – Tinker's partnership with the Gannett Company.

Friedman then returned to NBC in 1990 as Executive Producer of "NBC Nightly News with Tom Brokaw." In 1995, Friedman went to work at Savoy Pictures as President of the company's television operation and production and was later named Vice President and Station Manager of WCBS-TV.

Friedman was Senior Executive Producer of CBS' "The Early Show" from its premiere in 1999 through 2002. In 2003, Friedman was reunited with Bryant Gumbel on PBS as Executive Produce of "Flashpoints USA" co-anchored by Gwen Ifill. Friedman later worked on the launches of "Cold Pizza" on ESPN2, the "Dennis Miller Show" on CNBC, "Tucker Carlson Unfiltered" on PBS, and the re-launch of "Squawk Box" on CNBC.
—–
» Follow Steve Krakauer on Twitter
Have a tip we should know? tips@mediaite.com