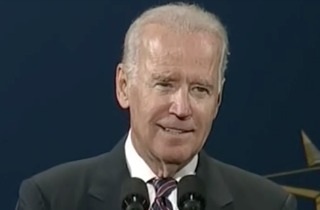 The progressive Netroots Nation event taking place in Detroit July 17-20 is featuring several notables this year including Vice President Joe Biden and Sen. Elizabeth Warren (D-MA). Sen. Debbie Stabenow (D-MI) and Democratic gubernatorial candidate Mark Schauer were also scheduled to attend.

Sounds like a newsworthy conference. As such, attendees with press credentials were estimated to be at about 190, according to Mary Rickles, who is handling media for the event. That includes bloggers.
That's a lot.
But compare it to the Conservative Political Action Conference (CPAC), which took place back in March in National Harbor, Md. That event, which lasted three days, drew ten times that amount of media, according to the conference's communications director, Meghan Snyder.
What's going on here?
Asked for her theory on the matter, Rickles, the Netroots representative, told Mediaite that it may be because CPAC took place closer to Washington, D.C., where most of the national political reporters are based. "Or it could also be just because probably half of our (regular) attendees are content producers — they blog, produce video for their communities/organizations, etc.," she said in an email.
It's worth noting that CPAC features many more marquee names than Netroots does, albeit on the other side of the political aisle. At the last CPAC, former Alaska Gov. Sarah Palin spoke, as did Texas Gov. Rick Perry, Sen. Rand Paul (R-KY) and Sen. Marco Rubio (R-FL). That may be the reason for the discrepancy.
A source at the Republican National Committee, however, theorized that the media may find it more newsworthy to catch a conservative personality or lawmaker in a gaffe than it is to do the same for a Democrat.
That's worth a thought.
[Photo via screen grab]
— —
>> Follow Eddie Scarry (@eScarry) on Twitter
Have a tip we should know? tips@mediaite.com