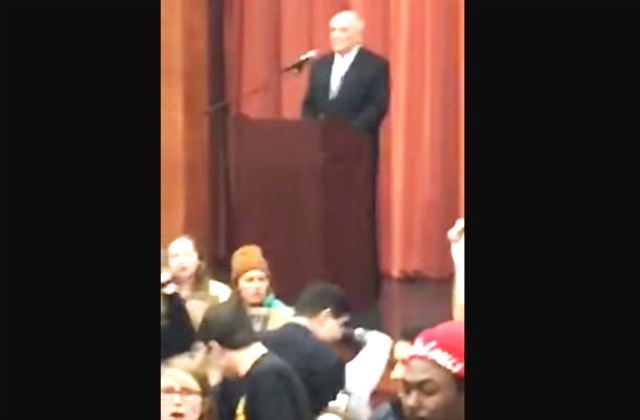 Protests over a speaker at Middlebury College in Vermont yesterday turned violent and one professor was hospitalized.
Conservative scholar Charles Murray was invited to speak for an event yesterday, but students and alumni posted open letters in the school paper opposing the invitation. The alumni letter argues this is not a free speech issue for the following reasons:
He paints arguments for the biological and intellectual superiority of white men with a thin veneer of quantitative rhetoric and academic authority. His work, including 1984's Losing Ground and 1994's The Bell Curve (coauthored with Richard Herrnstein), misinterprets selective, uncorrected statistics and other faulty data to argue for the genetic inferiority of people of color, women, people with disabilities and the poor. This is the same thinking that motivates eugenics and the genocidal white supremacist ideologies which are enjoying a popular resurgence under the new presidential administration. It is the same thinking that pervades many of the policies, structures and attitudes that perpetuate the ever-worsening inequalities of American society today. But it is fallacious thinking. The Bell Curve, for example, has been roundly refuted and criticized by sociologists, psychologists and political scientists alike. Yet Dr. Murray does not seem to be the kind of scholar who responds thoughtfully to criticism of his findings, biases or methodology. He has only continued to produce more work distinguished by the same disregard for basic standards of research and peer review.

We ask the Middlebury College community, and the American Enterprise Institute in particular: If Dr. Murray's scholarship is of blatantly dreadful quality — and we hold, along with so many of his colleagues, that it is — then what is the point of "debating" his views? How, and why, does one go about arguing in good faith with a scholar whose entire intellectual premise consists of what are now being called, incredibly, "alternative facts"?

Since Dr. Murray's views are not worth engaging on these grounds, this can hardly be called an occasion for open, rigorous academic debate.
Protesters showed up at the event yesterday where Murray and professor Allison Stanger were, as you can see in the video below:
When Murray took to the stage (around the 19-minute mark) above, students stood up and started chanting.
The protest became so disruptive that they had to change venues so Stanger could conduct the Q&A over a live stream instead.
It was after that interview, according to multiple reports, when the protests got violent (emphasis added):
As Stanger, Murray and a college administrator left McCullough Student Center last evening following the event, they were "physically and violently confronted by a group of protestors," according to Bill Burger, the college's vice president for communications and marketing.

Burger said college public safety officers managed to get Stanger and Murray into the administrator's car.

"The protestors then violently set upon the car, rocking it, pounding on it, jumping on and try to prevent it from leaving campus," he said. "At one point a large traffic sign was thrown in front of the car. Public Safety officers were able, finally, to clear the way to allow the vehicle to leave campus.

"During this confrontation outside McCullough, one of the demonstrators pulled Prof. Stanger's hair and twisted her neck," Burger continued. "She was attended to at Porter Hospital later and (on Friday) is wearing a neck brace."
Murray himself tweeted in response to the "seriously scary" students and the media coverage:
Report from the front: The Middlebury administration was exemplary. The students were seriously scary.

— Charles Murray (@charlesmurray) March 3, 2017
PS Middlebury Prof. Allison Stanger is really cool. Great conversation.

— Charles Murray (@charlesmurray) March 3, 2017
This is how WaPo reports on an out-of-control mob that physically assaults a speaker and a professor? https://t.co/hrGA5MfeHo

— Charles Murray (@charlesmurray) March 3, 2017
I don't think physical assault is covered by 1st amendment either. But I'm not a constitutional scholar. https://t.co/EB9IYi0Jpa

— Charles Murray (@charlesmurray) March 3, 2017
College President Laurie Patton posted the following statement online:
Members of the Middlebury College Community:

As many of you are aware by now, a large group of student protestors disrupted Charles Murray's talk yesterday afternoon in Wilson Hall in McCullough Student Center. I am deeply disappointed by the events that I witnessed and it was painful for many people in our community to experience. I know that many students, faculty, and staff who were in attendance or waiting outside to participate were upset by the events, and the lost opportunity for those in our community who wanted to listen to and engage with Mr. Murray.

With some effort, we were able to move Mr. Murray to another location where he and Prof. Allison Stanger, who was scheduled to moderate the Q&A following his talk, were able—though with challenges—to go ahead with the talk and a probing conversation afterward.

Following the event, protests continued outside of McCullough as well. Unfortunately, one group of demonstrators aggressively confronted Mr. Murray and Prof. Allison Stanger as they left McCullough Student Center. That confrontation turned into a violent incident with a lot of pushing and shoving, and an attack on the car in which they were leaving campus. We believe that many of these protestors were outside agitators, but there are indications that Middlebury College students were involved as well.

We will be responding in the very near future to the clear violations of Middlebury College policy that occurred inside and outside Wilson Hall.

Today our community begins the process of addressing the deep and troubling divisions that were on display last night. I am grateful to those who share this goal and have offered to help. We must find a path to establishing a climate of open discourse as a core Middlebury value, while also recognizing critical matters of race, inclusion, class, sexual and gender identity, and the other factors that too often divide us. That work will take time, and I will have more to say about that in the days ahead.

Last night we failed to live up to our core values. But I remain hopeful. Last evening, several students, faculty, and staff representing a large spectrum of political perspectives remained in Wilson Hall to discuss the events and to talk about building bridges. Their ability to reach across differences in a rigorous but respectful way was a stark contrast to the events that preceded it. I firmly believe these are the Middlebury values that we have lived so long and that we must strive to embody in the future.

I extend my sincerest apologies to everyone who came in good faith to participate in a serious discussion, and particularly to Mr. Murray and Prof. Stanger for the way they were treated during the event and, especially, afterward.

Laurie L. Patton
President
[image via screengrab]
— —
Follow Josh Feldman on Twitter: @feldmaniac
Have a tip we should know? tips@mediaite.com
Josh Feldman - Senior Editor