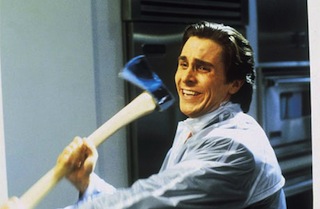 Here's an interesting story. So interesting that, when I sent it to my editor as a passive aggressive insult, he misunderstood it as a story pitch.
A new psychological study has found that 25% of "company high-flyers" may actually be psychopaths, able to move up in the business through charm and "business language." These findings are fascinating and also may help me conclude my own year-long experiment in which I've tried to come up with a headline that will get posted on more cubicle walls than a Dilbert comic. Take that, Scott Adams.
From the Daily Mail:
"[New York psychologist Paul Babiak] designed a 111-point questionnaire with the University of British Columbia's Prof Bob Hare – the world's pre-eminent expert in psychopathy and a regular adviser to the FBI – to determine how many industry bosses were psychopaths.

They found that nearly 4 per cent of bosses fitted the profile, compared with 1 per cent among the general population.

Dr Babiak said: 'These were all individuals who were at the top of an organisation – vice-presidents, directors, CEOs – so it was actually quite a shock.'

The results revealed that psychopaths were actually poor managerial performers but were adept at climbing the corporate ladder because they could cover up their weaknesses by subtly charming superiors and subordinates."
So, why aren't more of the world's office supply closets filling up with bloody intern corpses? Well, unlike the Hollywood definition of "psychopath," these doctors merely mean someone with "a profound lack of empathy, a general callousness towards other people." AKA the perfect person to ask you to work this weekend. This leads to what the study dubs a "successful psychopath," a person who can mask these traits and use them to their advantage.
The most interesting part of this idea is that the doctors claim that the things we tend to look for in a leader are actually the same things that set aside psychopaths.
Think about that. I know, for me, that statement just answered ever single question I've ever had about American politics.
Have a tip we should know? tips@mediaite.com