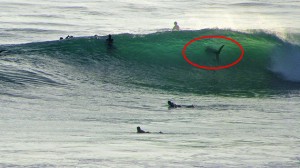 The media has been reporting for the past few weeks on Southern California beach-goers, rattled in fear by several great white shark sightings. One San Diego beach was even shut down after a life-guard caught sight of an 18-inch dorsal fin, likely belonging to a 10 foot creature. According to the LA Times, "dozens of people stood on the bluffs with cameras and binoculars," feverishly hoping for a glimpse, while "Television and military helicopters hovered overhead." Great white sightings aren't unheard of in the area, and while "all three sightings were dubbed by lifeguards as credible, having been made by lifeguards, surfers and bodyboarders," but people seem anxious for actual proof that there is a creature in their midst. Yesterday, proof arrived thanks to accidental citizen journalist Gary Elliot; and his image of a shark, swimming in close proximity to a bunch of surfers, seems to be tempering the fear of anxious beach goers.
Elliot caught the shark in the above photo, taken at a beach near Encinitas, California, by accident, actually. He didn't mean to take a picture of the shark, because he really hadn't noticed it at the beach that day. Only once he got home did he realize what he had captured. "I mean, it looks pretty clear to me that there is a big sea creature right there," he says.
Elliot wasn't the only one to have overlooked the shark that day — there were no reports of sharks on the beach that day, and life guards think it might just be a surfer mid-kick. Ralph Collier, president of the Shark Research Committee, however, told a local San Diego CBS affiliate that he thinks the photo is the "real deal" and that the tail probably belongs to a 10-to-12 foot shark.
Scary, you might think! But Collier suggests that this photo of the shark, playing nicely amongst humans, is, "another prime example of a large shark being in a group of humans and nothing happening." Can this picture assuage the fears of beachgoers, made anxious by rumors? This actually makes sense! The great white shark population is reportedly up along the coast of southern California, meaning the beasts are probably always closer than most swimmers would like to admit. It's only when you really think about this fact that gets scary, and in the quiet days of late August, the media is pretty happy to remind you.
One young surfer told CBS that he was planning on sticking around, shark or no shark, because "these are some of the best waves all summer probably." Sounds like he might have the right idea.
Check out the footage below:

(H/T Gawker)
Have a tip we should know? tips@mediaite.com