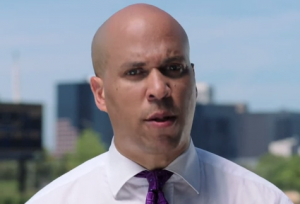 Newark mayor Cory Booker is almost guaranteed to become New Jersey's next senator (the latest poll has him leading his GOP rival by 35 percent), but with an increased national profile comes increased scrutiny. There was the resurgence of gay rumors and a National Review report exposing T-Bone, a Newark man Booker often spoke of, as a composite character that never really existed. But National Review isn't done with Booker, and on Tuesday editor Rich Lowry announced they filed a lawsuit against Booker for access to state documents.
The lawsuit stems from their curiosity over the case of Wazn Miller, a Newark teenager who was shot nine years ago. Booker described back then how the young man died in his arms.
Booker said he cradled Wazn and applied pressure to the wound to his stomach to stop the bleeding. He also kept checking the young man's pulse.

'The first time, I felt a weak pulse. The second time, I felt really strange sensations. Then there was no pulse at all,' Booker said.

Booker said he tried to talk to Wazn until the ambulance arrived.

'I said, 'Hold tight. Stay with me. You're going to be okay,' Booker recalled.
But given how T-Bone was not actually a real person, Lowry argues that it then stands to reason that the existence of Miller should be verified as well.
As it happens, National Review tried to obtain records about the Miller case, but Lowry claims they've been stonewalled.
We've asked nicely, we've asked firmly, we've asked in every way imaginable, but gotten nowhere. It is much easier to learn about the most sensitive aspects of top-secret national-security programs than it is to get Newark police records related to that day.

Enough is enough. Yesterday we filed suit against the Newark Police Department, the City of Newark, and Mayor Booker to obtain the records in keeping with New Jersey law. This suit shouldn't be necessary, but the official obstruction in Newark has made it so. In such an instance, everyone should favor openness.
And you thought Geraldo not running would make this a dull race…
[photo via screengrab]
— —
Follow Josh Feldman on Twitter: @feldmaniac
Have a tip we should know? tips@mediaite.com
Josh Feldman - Senior Editor