Punk Band Pictures Of Sikh Temple Shooter Wade Michael Page Show Neo-Nazi Fascination
Pictures Of Sikh Temple Shooter Wade Michael Page Show Neo-Nazi Fascination
After authorities confirmed that Wade Michael Page, 40, was the lone gunman in Sunday's tragic Sikh temple shooting in Oak Creek, Wisc., details began to leak about the shooter's past. One particularly interesting story is that he was the member of a white supremacist "skinhead" punk group End Apathy, whose Myspace page confirms Page's involvement in the band (with pictures).
A 2006 posting by Page on BandMix.com — a site used by aspiring musicians seeking other artists to join them — seems to detail when he recruited a bassist and drummer for End Apathy. On the site, he reveals that he is also a member of bands Definite Hate and 13 Knots. The posting is based out of "South Milwaukee, Wisconsin," which neighbors the city of Oak Creek where the shootings took place.
Some of the images found on the BandMix and Myspace pages further confirm Page's neo-Nazism. The band's practice space was seemingly adorned with a variety of Nazi paraphernalia.
Below is a shot of Page playing guitar with what appears to be a replica of a flag with the German Eagle coat-of-arms used during the Nazi regime: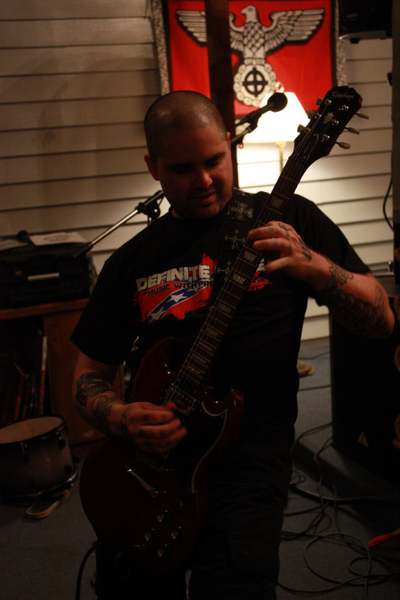 Another picture from the band's practice space shows a Nazi flag draped behind the drum kit: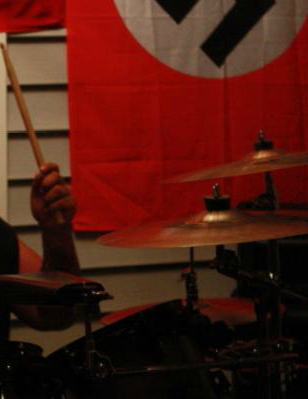 Another heavily-discolored photo shows a Confederate flag in the practice space. While not necessarily an indicator of neo-Nazism, in this case the flag makes sense given many white supremacists' infatuation with antebellum slavery.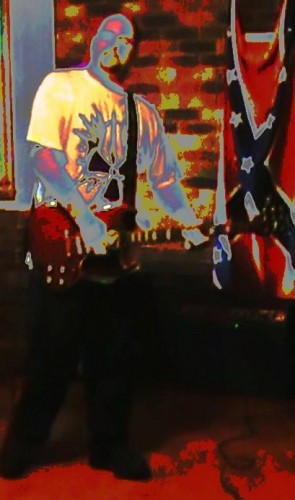 A 2010 interview Page gave to Label 56, a white supremacist music site, further reveals his dabbling with neo-Nazism. Page indicated he went to the Hammerfest 2000 in Georgia, which was an annual "hate rock" festival organized by a skinhead group.
"That's when I joined Youngland," he said. Slate's Dave Weigel reports that was a white power band with lyrics like: "Stand one stand all, stand up, stand proud/and raise the white man's flag."
— —
>> Follow Andrew Kirell (@AndrewKirell) on Twitter
Have a tip we should know? tips@mediaite.com