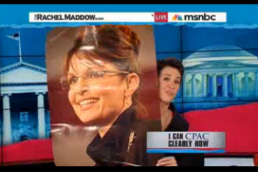 Rachel Maddow went on a field trip to CPAC yesterday and lived to tell about it. Kidding! She actually says everyone was very nice to her. Maddow may not be a Fox News viewer (or any television news viewer, for that matter) but she is not afraid to go in to the belly of the conservative beast. Among other highlights of her trip to the conference, Maddow got to meet (a very smiley) Liz Cheney, put words in Sarah Palin's mouth (literally!), and bemoan her absence from the MSNBC collection of stomping heads attendees are encouraged to "stomp on." Also, her collection of swag!
"My haul from the Conservative Political Action Conference today included some tangible, interesting windows into the modern conservative movement."
These included: Large (free!) pictures of Sarah Palin and Ann Coulter. Alas, for viewer Maddow's lurking around Lix Cheney's booth did not pay off; all she got was a sticker that said "Gitmo Saves Lives.' Plus: the Tea Partiers guide to tea party signs. And this is only the tip of the iceberg. She also apparently got yelled at by a member of the 'normal' people's club (read: anti-homosexuality). Says Maddow: "He did not, in fact, seem normal".
Her takeaway from the experience? Maddow thinks CPAC — now embraced by 'mainstream' Republicans — offers the Dems an opportunity to force the GOP to answer for some of its crazier elements (i.e. the racist cartoon of Obama she came across) and change the tone of the next election. Video below.

Have a tip we should know? tips@mediaite.com