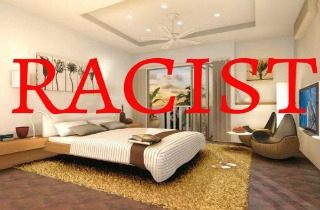 Looking for a spacious master bedroom in your new house? No you most certainly are not, you racist, sexist bigot. This is the future of political correctness, according to a report in the Baltimore Business Journal. Homebuilders are scrapping the term "master" to describe a home or apartment's largest bedroom in floor plans. "Owner's suite" or "owner's bedroom" will be used in the future to avoid what are described as the racist and/or sexist connotations associated with the term "master bedroom."

RELATED: Joe Walsh Tells Martin Bashir Furor Over 'Wetback' Remark Makes Politicians 'Afraid To Speak'
The logic behind the move, according to reports, is that the term master connotes the room is owned by a man. Furthermore, the loaded historical context of the word "master" has deep significance relative to the history of African slavery in the United States.
Baltimore Business Journal reporter Michael Neibauer quotes several homebuilder firm executives who say that they are actively phasing out the term in their floor plans.
"I imagine it's not only a more accurate description but also a more politically correct term of art," one homebuilder told Neibauer.
The change is "just working through the industry, and finally, bingo, we got it," said another construction executive.
"The terminology has more of an upscale tone to it, particularly in some of the really large homes that truly have a large bedroom, sitting area, enormous walk-in closets, and lavish bathrooms," [Brian Block, managing broker for McLean, Va.-based RE/Max Allegiance] wrote in an email. "Owner Suite conveys a sense of being distinguished, having 'made it' or 'arrived' rather than the everyday 'Master Bedroom.'"
Read the full report via Baltimore Business Journal
> >Follow Noah Rothman (@NoahCRothman) on Twitter
Have a tip we should know? tips@mediaite.com