Rand Paul Advocates More 'Tolerant' GOP In Op-Ed: 'I Filibustered To Defend Millennials'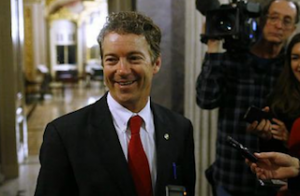 Sen. Rand Paul (R-KY) shot back at critics of his nearly 13-hour filibuster against the nomination of CIA Director John Brennan in an op-ed published on PolicyMic.com. Paul went directly after the Wall Street Journal editorial that accused him of catering to "impressionable libertarian kids in their college dorms," and idea that was later echoed by Sen. John McCain (R-AZ) on the Senate floor.
Paul used his op-ed to embrace the "millennial" generation, a group that PolicyMic specifically targets, and defend younger libertarians from attacks by conservatives establishment like the Wall Street Journal and McCain. "We do need a Republican Party that addresses the concerns of young people," Paul wrote. "We need a different kind of GOP, a party that speaks to the rising generation, who may have unique interests and concerns."
While much of the op-ed dealt with issues of deficit and debt, the section below indicated a desire for enhanced liberty on social issues as well.
"I believe a Republican Party that is more tolerant and dedicated to keeping the government out of people's lives as much as possible would be more appealing to the rising generation. We have a nation of 300 million people who all harbor very different opinions on various policies. We have a Constitution that allows, even requires, many of these decisions to be made at the state and local level, which could accommodate the diversity of opinion in this country. Most young people I encounter simply have no desire to tell other people what to do or how to live."
The sentiments put forth by Paul in this article could be an indication of what he plans to say during his address at the CPAC conference later this week in Washington, D.C. Paul is scheduled to speak at 1:30pm ET on Thursday, March 14th.
—
>> Follow Matt Wilstein (@TheMattWilstein) on Twitter
Have a tip we should know? tips@mediaite.com