Rand Paul: GOP Must 'Agree to Disagree' on Social Issues in Order to Expand Party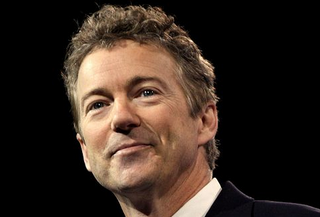 In an interview with Vocativ.com, Sen. Rand Paul (R-KY) expressed a desire for factions within the Republican Party to "agree to disagree" on hot-button social issues so that the GOP tent may expand to include more young people and alternative viewpoints.

Asked whether the general consensus at last week's Conservative Political Action Conference was that the party must butt out of social issues, Paul replied:
I think that the Republican Party, in order to get bigger, will have to agree to disagree on social issues. The Republican Party is not going to give up on having quite a few people who do believe in traditional marriage. But the Republican Party also has to find a place for young people and others who don't want to be festooned by those issues.
Paul maintained that his own view of gay marriage is one that allows the states to make decisions based on local mores, while the federal government "ought to take a neutral position" on the tax and benefit issues that arise from marriage.
The libertarian-leaning senator's comments about the GOP echoes that of former Indiana Gov. Mitch Daniels who, in 2011, suggested the party ought to call for a "truce" on social issues in order to focus on the economic recession.
His comments were immediately rebuked by social conservative types likes former Gov. Mike Huckabee and former Sen. Rick Santorum.
Sen. Paul will likely face similar criticism, as certain conservatives eye the 2016 primaries and continue the push to rally the base and distance themselves from each other in unique ways.
[h/t Vocativ]
— —
>> Follow Andrew Kirell (@AndrewKirell) on Twitter
Have a tip we should know? tips@mediaite.com