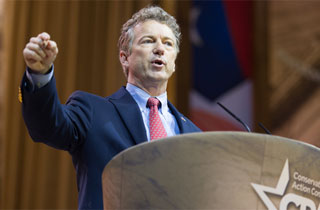 While other politicians have released statements and tweets about the situation in Ferguson, Mo., Sen. Rand Paul (R-KY) just published a searing editorial in TIME condemning the police brutality and calling for a simple solution: demilitarize the police.
"There is a legitimate role for the police to keep the peace, but there should be a difference between a police response and a military response," he wrote. "The images and scenes we continue to see in Ferguson resemble war more than traditional police action."
Paul, an outspoken opponent of government "erosion of civil liberties and due process," tied the issue to the worrying trend of police forces being given absurdly powerful weapons and equipment to police peaceful American streets. "The militarization of our law enforcement is due to an unprecedented expansion of government power in this realm," he argued. "It is one thing for federal officials to work in conjunction with local authorities to reduce or solve crime. It is quite another for them to subsidize it."
He also fully addressed the race politics driving the police's crackdowns, and argued that they were not just legitimate, but absolutely at the crux of the issue:
"Given these developments, it is almost impossible for many Americans not to feel like their government is targeting them. Given the racial disparities in our criminal justice system, it is impossible for African-Americans not to feel like their government is particularly targeting them…Anyone who thinks that race does not still, even if inadvertently, skew the application of criminal justice in this country is just not paying close enough attention."
This makes Rand the most high-profile libertarian(-ish?) figure to address the Ferguson protests.
[TIME]
[Christopher Halloran, Shutterstock.com]
—
>> Follow Tina Nguyen (@Tina_Nguyen) on Twitter
Have a tip we should know? tips@mediaite.com