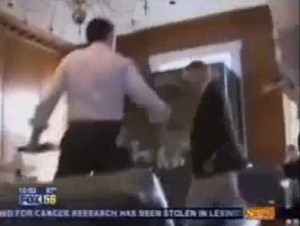 Most people accused of kidnapping a co-ed in 1983, forcing her to take bong rips, and subsequently making her pray to a presumably pot-inspired deity named Aqua Buddha would want to take advantage of every opportunity presented to them to clear their name. Rand Paul is not one of those people.
On Wednesday, Paul went to a local Fox affiliate in Lexington, Ky. to film a brief segment for Fox News in order to clear his name of such allegations (which were published on the GQ politics blog, and as it turns out, might be flawed). However, as the video below shows, he was anxious to flee the station as soon as his national TV spot was finished – when a Fox 56 reporter tried to get his own interview with the Senate hopeful, Paul ran away from him.
Ben Smith at Politico points out that this reaction could stem from a Sharron Angle-esque view on the relationship between politicians and the media, as a fleeing Paul can be heard saying, "It won't, because the thing is, we answer once or twice and we're done," in response to the reporter saying the story will keep getting bigger. He had the same attitude on his national Fox News interview, in which he said, "I don't think that really politicians should be asked to answer anonymous accusers from 27 years ago."
If that collective pronoun "we" he uses when talking to the local reporter is a reference to politicians as a whole, his reasoning is a little suspect. Because if anything will pin the label of pothead idol worshiper/kidnapper to him for the rest of his political career, it's bolting in the opposite direction from people asking him to contest it.
Have a tip we should know? tips@mediaite.com