Rand Paul Won't Participate in Second-Tier Debate: The Media Shouldn't 'Pick Who Wins'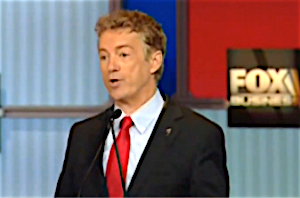 Rand Paul told Fox's Brian Kilmeade Wednesday that he will refuse to participate in "any kind of second-tier debate," insisting it "isn't the job of the media to pick who wins."
On Monday, Fox Business Network announced the criteria for the next Republican debate to be held on Jan. 14 in North Charleston, SC. The strict criteria could potentially relegate Paul, John Kasich, Mike Huckabee, Rick Santorum, George Pataki, and Carly Fiorina to the undercard debate.
"I won't participate in any kind of second-tier debate," Paul said on the Fox radio program Kilmeade and Friends. "We've got a first-tier campaign."
"I'm not gonna let any network or anybody tell me we're not a first-tier campaign," the Republican candidate continued. "If you tell a campaign with three weeks to go that they're in the second-tier, you destroy the campaign. This isn't the job of the media to pick who wins. The voters ought to get a chance."
Paul said it is a "huge mistake" for the media and the Republican party to determine who has a chance to win the nomination. "I frankly just won't be told by the media which tier I'm in, and we're not willing to accept that, because we're a first-tier campaign and we're in it to win it and we won't be told that we're in a tier that can't win," Paul added.
Paul argued the polls are "artificial" and unscientific."If we're going to make our decisions based on polling, why have elections?" Paul asked. "You know? We can have American Idol contests instead."
"Without question, we have a first-tier campaign and we just can't accept the designation of being artificially told that we don't have a chance with three weeks ago. So we won't stand for it and we will protest any such designation," he said.
[h/t Buzzfeed]
[Image via screengrab]
—
>> Follow Elizabeth Preza on Twitter (@lizacisms)
Have a tip we should know? tips@mediaite.com