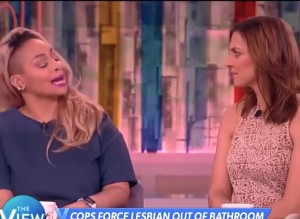 A viral video showing a lesbian woman being kicked out of a women's restroom by security guards who mistook her for a man has been burning up social media recently, mostly in response to recent anti-transgender "bathroom bills" and Target's announcement of its inclusive bathroom policy. On Friday's edition of The View, co-host and "member of the LGBT community" Raven-Symoné weighed in on the video in a way that might surprise folks who expected her to be supportive of the woman:
Raven-Symoné: First of all, my mom always told me to carry you wallet and ID wherever you go. It's not fair she got treated that way, but at the same time, girl, put your wallet in your pocket.

Paula Faris: You think she should have presented identification?

Raven-Symoné: You know why? You don't have to make things go to that escalated. It's rude what they did, and it's bad that people treated her that way, but there's a way to defuse a situation. To defuse it, have your right papers.
Faris added that she can "see both sides," but that since she's been paying attention to the issue, has noticed that "when I have gone into a public bathroom, they're pretty private. I'm not seeing anybody. I — listen — you're behind a door, you lock the door, you wash your hands, and you leave."
Maybe Symoné is on to something, though. Perhaps the answer to this problem is to check everyone's papers, and any undocumented occupants can be sent to a De-Porta Potty. Let's get this idea over to the United Urinations Security Council right away.
Have a tip we should know? tips@mediaite.com